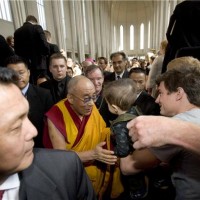 His Holiness the Dalai Lama being greeted by the public at the inter-faith prayer gathering. Photo by Ragnar Axelsson
Reykjavik, 1 June: The most prominent Church here, called Hallgrimskirkja, was today packed to capacity with 1200 people as they came to hear His Holiness the Dalai Lama on his first ever visit to Iceland. Many people were also seen standing on the sides of the church hall with all seats being filled and many others unable to fit in waited outside to have a glimpse of His Holiness as he made his way out.
The Tibetan Nobel Peace laureate was invited by the Bishop of Iceland, His Grace Karl Sigurbjornsson, to address the special inter-faith gathering of "peace and prayer" held in the Church located in downtown area of the country's capital Reykjavik. This public inter-faith event attended by representatives of various religious and faiths such as Islam, the Catholic Church of Iceland, the Bahai Community of Iceland, the Russian Orthodox Church of Iceland, etc., was organised especially to coincide with His Holiness' June 1-3 visit to Iceland.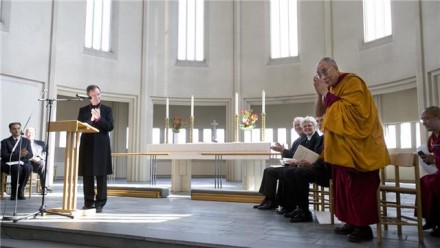 His Holiness being welcomed by the Bishop of Iceland at the special inter-faith gathering. Photo by Ragnar Axelsson
Bishop Sigurbjornsson in welcoming His Holiness spoke about the Tibetan leader's untiring witness to peace and hope.
"The suffering of your people and country, Tibet, from which you had to flee fifty years ago, has touched a deep cord in our hearts. We Icelanders are a small nation cherishing our freedom and we can identify with the pain of oppression. In a world of escalating violence, hate and retaliation your witness to the way of peace, compassion and reconciliation has been beacon for us all," the Bishop said.
The Church leader further said that they wanted to pay their respect and gratitude to His Holiness for "your work for understanding, tolerance and love between peoples, nations and
religions", adding, "That is a message our world needs to hear and take to heart."
Speaking on the occasion, His Holiness said that on his first visit to Iceland he was pleased that his first public engagement was an inter-faith event that was keeping in tune with one of his main commitments of promoting inter-religious harmony.
Commenting on the topic of "Peace and Hope", His Holiness told the large gathering that it was good to base our life on hope because no one can predict the future. He said if a person lost hope then sometimes they commit suicide and this is why it is much better to remain hopeful and follow the path of peace and non-violence.
"Only through cultivation of inner peace can we attain lasting and long-term peace in the world. All the religions and faith have the same potential to promote peace," His Holiness said, adding that "Religion must be the method to solve problems and not create problems".
Thorhalla Bjornsdottir, head of the Organising Committee of the "Dalai Lama in Iceland" group, at whose initial invitation His Holiness was visiting Iceland, said that the visit of His Holiness, who arrived here last night from Copenhagen, Denmark, has had a positive impact on the people here.
"His Holiness has reached out to many people in the country. One percent of the people in Iceland have bought a ticket to attend his sold-out public talk on Tuesday. It seems he has opened the heart of everyone and given hope at this critical time the people of Iceland are facing", she said.
Iceland is a small country inhabited by 300,000 people and the country is still in the grip of the major economic crisis. Many here believe that His Holiness' visit could not have come at a better time to give a sense of hope to the people and the wisdom that money alone cannot bring about happiness. It is apparently with this in mind that the organisers of His Holiness' public talk tomorrow has suggested "Compassion, Value and Happiness" as the topic for the public talk.
His Holiness' remarks at the inter-faith gathering in the Church received a positive response from all sections of the people. As the Bishop and other religious and faith leaders were leading His Holiness to his motorcade waiting outside the Church, a lady walked up to say, "Thank you for coming to Iceland and for opening everyone's hearts". Many people with smiles on their faces and some whose eyes were filled with tears of joy had also assembled
outside the church to greet and wave at His Holiness.
Earlier in the morning, His Holiness gave an audience to the Ambassador of India and members of the visit Organising Committee and volunteers. He also gave an interview to Iceland's oldest newspaper Morgunbladid and addressed a "meeting with the press" where he answered questions ranging from the Tibet issue to his impression about Iceland, which he said, like Tibet, enjoyed a clear blue sky.
Tomorrow, His Holiness will be visiting the Parliament of Iceland at the invitation of the Parliament Speaker, Mrs. Asta Ragnheidur, to address members of the Committee on Foreign Affairs. He will also be visiting the University of Iceland to participate in an educational seminar with top academics especially in the field of philosophy and religious studies. Among others, Iceland's Minister of Environment and Minister of Health are also scheduled to
separately call on His Holiness.
"The facts that government ministers and other political leaders are approaching us for meeting with His Holiness clearly show their regard for the warm public mood and positive response to His Holiness' visit to Iceland", said Mr. Tsering Tashi, the London- based Representative of His Holiness the Dalai Lama, responsible for coordinating the Iceland visit and who is accompanying the Tibetan leader on the Denmark and Iceland leg of the current four country visit.
His Holiness' visit is also receiving good coverage in Iceland's TV channels and newspapers.
-Report filed by the Office of Tibet, London