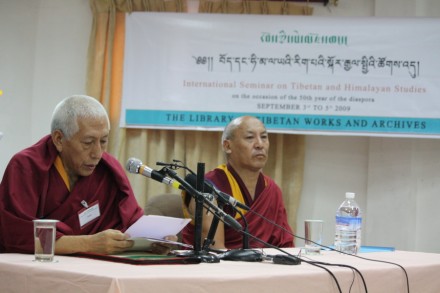 Kalon Tripa Prof Samdhong Rinpoche (L) speaks while Geshe Lhakdor (R) director, Library of Tibetan works and Archives, look on during the inaugural day of the international conference on Tibetan and Himalayan studies, in Dharamsala, India, on 3 September 2009
Dharamshala: A galaxy of luminaries have gathered in Dharamsala to take part in the 'International Conference on Tibetan and Himalayan Studies' organised the Library of Tibetan Works and Archives (LTWA). The three-day educational symposium is part of the year-long commemoration of the 50th anniversary of the Tibetans in exile.
The participants are scholars and professors from various universities and institutions around the world such as Leiden University; Cambridge University, University of California, Shantiniketan University, Central Tibetan University in Varanasi, India; Bonn University; Jammu and Kashmir Academy; Bloomington University; Warsaw University; Vienna University; Monash University; Himachal Pradesh University, Education Department of the Central Tibetan Administration; Amne Machen Institute and Tubingen University.
The participants exchange views and hold discussions on a wide-range of topics, including 'Buddhist masters and religion; Tibet and the noble land; material culture and Tibet in the later period (History and Linguistics) .
In his opening remarks, Geshe Lhakdor, the director the Library of Tibetans Works and Archives, briefed the participants on the mission of establishing the library for the preservation, promotion and dissemination of the Tibetan cultural and religious heritage.
Geshe Lhakdor, an eminent Buddhist scholar and former translator of His Holiness the Dalai Lama, expressed gratitude on behalf of the Tibetan people to the Indian government for its continuous support since the library was first established on 1 November 1971.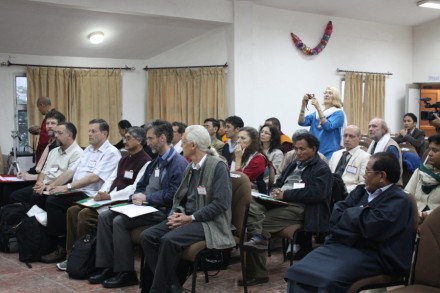 International Conference on Tibetan and Himalayan Studies' organised the Library of Tibetan Works and Archives
The Library of Tibetan Works and Archives, set up under the guidance of His Holiness the Dalai Lama, has today become a repository for significant collections of Tibetan artifacts, manuscripts and other records, while also serving as a centre for language and cultural education. The library draws an increasing number of visitors, researchers and students to provide them with an educational and cultural experience hard to avail elsewhere in the world.
In his address, Kalon Tripa Prof Samdhong Rinpoche described the Tibetan studies as an offshoot of subjects taught at the University of Nalanda, which was one of most important centre of learning in ancient India.
The University of Nalanda was founded in the 5th century by the Gupta emperors. There were thousands of students and teachers. The subjects taught at Nalanda University covered every field of learning. The courses offered at Nalanda included the study of scriptures of Mahayana and Hinayana Schools of Buddhism, Brahminical vedic texts, Philosophy, logic theology, grammer, astronomy, mathematics and medicine. Its importance as a monastic university continued until the end of the 12th century.