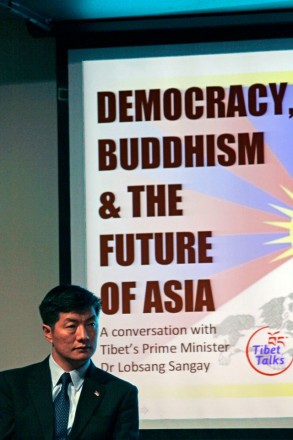 Kalon-Tripa-at-the-Sydney-public-talk
Kalon Tripa Dr Lobsang Sangay has reached the final stage of his historic visit to Australia. During the week-long visit to Canberra, Sydney, Melbourne and Brisbane, he has been welcomed by scores of political leaders, the media and packed public audiences. Kalon Tripa's visit has come at a critical time for the Tibetans inside Tibet, who remain engulfed in an escalating cycle of resistance and repression. As his first to Australia since taking the office of Kalon Tripa, the visit served to affirm Dr Lobsang Sangay's position as Tibet's new political leader and the continuity of the Tibetan struggle following His Holiness the Dalai Lama's full devolution of political power to the democratically-elected leadership of the Central Tibetan Administration.  The visit also follows a marked strengthening of Australia's diplomatic and economic relationship with China. The two countries celebrate 40 years of diplomatic relations in 2012. Today China is Australia's largest trading partner and Australia is China's seventh largest trading partner.  The Tibetan political leader urged that Australia and other countries raise the Tibet issue to greater prominence in their relations with China. He also focused on educating the Australian public on the crisis in Tibet today and brought renewed energy to the Tibet movement in Australia.
The visit, which incorporated four major Australian cities and more than 40 engagements, included important political meetings, high-profile media interviews, Chinese outreach, discussions with China scholars, public engagements and meetings with the Tibetan communities. In Canberra, the national capital, Kalon Tripa met with close to 50 lawmakers, constituting more than 20 percent of the Australian parliament, and conveyed the aspirations of the Tibetan people and the commitment of Central Tibetan Administration towards finding a peaceful solution to the Tibet issue. He urged Australia to play a more constructive role on Tibet as part of its deepening engagement with China and as a member of the international community. Parliamentarians from all parties sent a strong message of support for the Tibetan people by welcoming the new political leader to Parliament House and engaging in robust discussions. Four MPs have already made strong statements on the situation in Tibet to the Australian Parliament this past week. They include Michael Danby MP, Chair of the Australian All-Party Parliamentary Group for Tibet and Chair of Joint Standing Committee on Foreign Affairs, Defence and Trade; and Mr Harry Jenkins, former Speaker of the House of Representatives. Kalon Tripa told Australia's political leaders that the international community has a key role in determining how China behaves on the world stage. With Australia having a level of engagement with China shared by a few other countries, Kalon Tripa cautioned the Australian government against adopting a "zero-sum mindset" in its dealings with China. He argued that one can enjoy a strong economic relationship while upholding basic values of freedom and democracy.
Kalon Tripa's hearing on "Democracy in Exile: A case for Tibet" was well received by the Joint Standing Committee on Foreign Affairs, Defence and Trade – a parliamentary committee examining international relations and, for Tibet, the most important body in the Australian parliament.
In Canberra, Sydney and Melbourne, Kalon Tripa took part in roundtable discussions with top China scholars and contributed to the discourse on regional geopolitics. Leading think tank The Sydney Institute hosted a talk by Kalon Tripa titled Tibet in the Asian Century. Kalon Tripa addressed the geopolitical and environmental significance of Tibet in today's world. Australia's strong interest in the Tibetan leadership was reflected in wide media coverage. Kalon Tripa was interviewed by all major Australian newspapers, broadcasters and news agencies, including the Sydney Morning Herald, The Australian, ABC TV, ABC Radio, Sky News and AAP. Kalon Tripa's hour-long address to the National Press Club, a key platform for national and international leaders, was broadcast live on ABC TV, Australia's main public broadcaster. In Sydney and Melbourne, the two biggest cities in Australia, Kalon Tripa spoke to sold out audiences at public talks organised by Australia Tibet Council, the national Tibet Support Group. Kalon Tripa's meetings with local Tibetan communities and Tibet Support Groups provided a strong sense of direction to the Tibet movement in Australia. Kalon Tripa's visit followed the first Tibet lobby day in Australia, held earlier this year, and helped build on the momentum of political activism for Tibet. His visit will soon be followed by the second Australian parliamentary delegation to Dharamsala, due in July. Kalon Tripa returns to India tomorrow after making a brief stopover in Brisbane to meet with the local Tibetan community there.