DHARMSHALA: Kalon Tripa Dr Lobsang Sangay today graced an exhibition titled "Our land, Our People" showcasing 20,000 kg of raw Tibetan soil brought to Dharamshala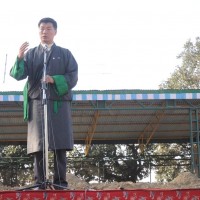 Kalon Tripa Dr Lobsang Sangay speaks during an exhibition of soil
by a Tibetan artist Tenzin Rigdol and sets foot on it symbolising the Tibetan people's desire to return to Tibet.
Speaking at the exhibition, Kalon Tripa Dr Lobsang Sangay said, "It has been the dream of many Tibetans to return to Tibet and set foot on Tibet's soil. Many have passed away with that wish unfulfilled. Today, I am stepping on this soil as a gesture of our struggle to reunite with our brothers and sisters in Tibet."
He also lauded the efforts of the artist to bring the soil to Dharamshala and added that the soil carries a tremendous amount of sentimental value in every Tibetans' heart and soul.
Tenzin Rigdol, in his address, thanked the audience for coming to the exhibition and added that it has been his father's long cherished dream of returning to Tibet and stepping on Tibet's soil. Unfortunately, his father passed away before fulfilling the dream. Hence, he conceived the idea of bringing the soil to India.
The event also featured a TIPA artist's flute rendition of Dentsig Monlam (prayer of truth) composed by His Holiness the Dalai Lama and a group performance of the song,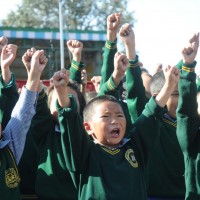 Infant section kids singing the song,"Lets return to Tibet"
"Lets return to Tibet" by the  infant section of Tibetan Children's Village.
Monks from Kirti monastery in Dharamshala also held a prayer vigil for those Tibetans who sacrificed their lives for Tibet in the recent months.
The exhibition was held at the basket ground of the upper TCV school and more than 1,000 people, including staff and students of the school as well as general Tibetans from all walks of life, attended the exhibition.