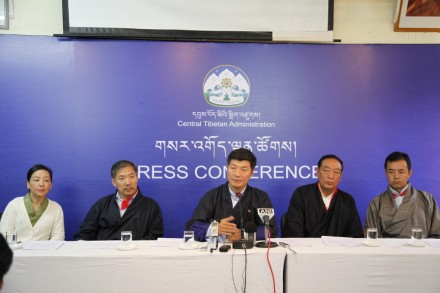 DHARAMSHALA: The 14th Kashag convened a press conference today marking the completion of its one year in office since the inauguration of Kalon Tripa Dr Lobsang Sangay on 8 August last year.
Speaking at the press conference, Kalon Tripa said the present Kashag has considerably lessened the initial anxiousness of the Tibetan people after the devolution of political authority by His Holiness the Dalai Lama and has retained the progress of the administration.
"There was a bit of anxiousness among the people, including myself and the members of the Kashag but in retrospect, if you look back, the Kalons and myself, we have traveled around the world and to many settlements. Cumulatively, its fair to report that there is a sense of stability and a sense that we have lessened the anxiousness among the Tibetan people," he said.
Acknowledging the hard work of the elder generation of Tibetans, he said the foundation of the Central Tibetan Administration and the Tibetan movement is very strong. It has sent a clear message to the Chinese government's claims that the Tibetan movement will collapse when the elder generation passes away, he added.
Speaking about the Tibetans living inside Tibet, he said they have kept alive their indomitable commitment to the cause of Tibet. A stable and vibrant Tibetan administration in exile will give them the extra impetus to their thoughts and feelings, he added.
He also said that the international community has come to the growing realisation that the Central Tibetan Administration has a fully and a consolidated democratic system.
Kalon Tripa thanked the Tibetan people both inside and outside Tibet for their solidarity and support and pledged the 14th Kashag's sacred duty to uphold the legacy of the elder generation to carry the Tibetan struggle forward.#