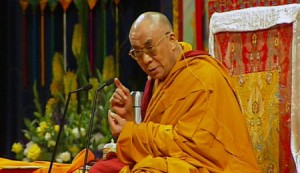 Kerry O'Brien's exclusive interview with the Dalai Lama
KERRY O'BRIEN, ABC TV PRESENTER: For decades now, Tibet's spiritual leader the Dalai Lama has waged a sustained campaign maintaining global pressure on China to relax its iron fist on Tibet and grant a genuine autonomy within the People's Republic.
But rarely has the Dalai Lama been in the headlines more than since the sometimes violent demonstrations that began in Tibet on March 10 this year and raged on and off for two weeks.
In the inevitable Chinese crackdown, an unknown number of Tibetans were killed. The Chinese acknowledge 21 deaths; demonstrators say it was more than 200.
It's now history that the protests spread, dogging the journey of the Olympic torch through Europe, America and Australia on its way to China for the Beijing Olympics. The Dalai Lama, of course, has always preached non-violence, but a growing number of young Tibetans are obviously frustrated by China's intransigence on their calls for full autonomy. The Dalai Lama is in Australia – not, he says, to play politics, but to teach his Buddhist philosophy.
I spoke with him in Sydney earlier today (12/06/08).
ABC Online | Link to transcript and video