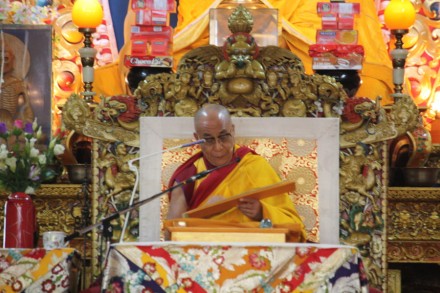 His Holiness the Dalai Lama reads texts from a scripture on the first day of a three-day Buddhist sermon at Tsulagkhang, main temple, in Dharamsala, India, on 15 September 2009/Photo:Sangjay Kyap
Dharamshala: More than 4,000 devotees, including mostly Buddhists, have gathered in the northern Indian town of Dharamsala to attend a three-day Buddhist discourse by His Holiness the Dalai Lama which began this morning. More than 1,400 foreigners from 55 different countries, have registered for the teachings.
His Holiness the Dalai Lama gives general teachings on Buddhism at the request of Korean Buddhists. Around 200 Koreans are attending the teachings.
His Holiness the Dalai Lama spoke on the fundamental principles of Buddhism and particularly on the Four Nobel Truths.
The teachings are scheduled to be held from 9 am to 11 am in the morning and from 1 pm to 3 pm in the afternoon.
Live video webcast in Tibetan and Korean languages as well as live audio webcasts in Tibetan, Korean, English and Chinese is available on www.dalailama.com.