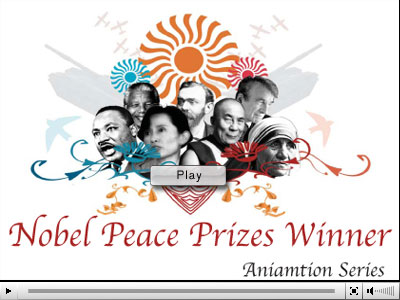 Nobel Peace Prize Video Animation Series

Soul Space Studio is a group of artists working to share the message of peace by developing spiritually conscious media projects.
The Nobel Peace Prize Winners Series which starts with H.H. the 14th Dalai Lama is their current major endeavour.
"We hope to have these 'interstitial' sized animations playing between programming on commercial and cable networks to expose as wide an audience as possible to the wisdom of these great individuals," said Victor Holder, spokesperson for Soul Space Studio.
The series will pay tribute to the honourable work of Nobel Peace Prize Winners for their and humanity while promoting universal tolerance, social dialogue.
"We feel this is an important time to deliver these messages of hope and optimism, as world tensions do not seem to be easing," he said. "We care about developing the potential of artists and collaborators to realise high standard multifaceted media ventures as well as fun community projects and we hope this series will promote peace in the world through sharing knowledge and education on a global scale."
Soul Space Studio are currently seeking financial backing for the production of the remaining 12 animation episodes of the Nobel Peace Prize Winners series. You can help them by making a DONATION to their production fund.
Once produced, a share of the profits from the distribution will be donated to elected conflict resolution projects and people in need.