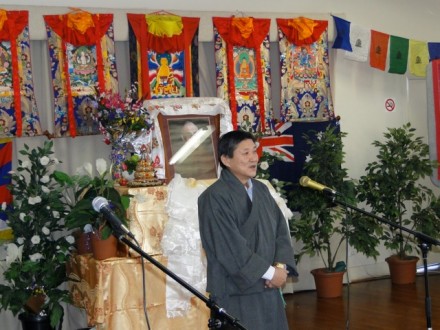 Mr Sonam N Dagpo, His Holiness the Dalai Lama's Representative to Australia, addressing the
Newcastle, Australia: Around 100 people gathered for the first time in Newcastle, Australia to celebrate the 76th birthday of His Holiness the Dalai Lama on 9 July. The celebrations were held within the Ethnic Communities Council Hall at Waratah.
The day was significant for another reason – it was also the official launch of the Tibetan Community of Newcastle, Australia's newest Tibetan Community.
The community began around 2 months ago when 4 families decided to move from Sydney to establish a new home for in Newcastle.
They then met Tenzin Lodue – a fellow Tibetan who had been living in Newcastle with his Australian wife and 3 children for the past seven years.
Together the 5 families decided to form the Tibetan Community of Newcastle so that they can work together to preserve their culture and teach their traditions to their children. The community also exists so that they can offer support and assistance to each other and to any other families or individuals who choose to move to the area in future.
At the first meeting Mr Tenzin Lodue was elected the first president of the Tibetan Community of Newcastle, with Pema Tsering elected as Secretary.
To join the celebrations on 9 July the community was honoured to host Mr Sonam Dagpo la, representative of His Holiness in Australia and Mr Ngodup Gyaltsen, Secretary of Tibet Information Office, who had travelled from Canberra to join the community as their special guests for this first official celebration and the launch of the Tibetan Community of Newcastle.
The community provided a Tibetan lunch for all the guests and performed traditional Tibetan songs and dances.
The day was a great success and all who attended enjoyed themselves and were pleased to learn more about this Newcastle's newest community and to welcome them to their city.