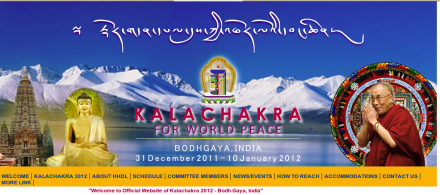 flash0107113794
DHARAMSHALA: The organising committee of the 32nd Kalachakra Initiation to be held at Bodhgaya, India, from
31 December 2011 to 10 January 2012, launched its official website.
Kalon Tripa Prof. Samdhong Rinpoche launched the website at a press conference convened by the organising committee at the Kashag Secretariat this morning.
The main features of website, (www.kalachakra2012.org), include information about the Kalachakra Initiation 2012, schedule of the teachings and accommodations for pilgrims and tourists.
According to the website, a specially set up tented camp will serve as a temporary accommodation for pilgrims and tourists who are visiting Bodhgaya to attend the Kalachakra teachings. Announcement for advance booking and registration will be made available soon.
In his brief address, Kalon Tripa said His Holiness the 14th Dalai Lama is only one in the institution of the Dalai Lama to achieve the remarkable spiritual accomplishment of bestowing maximum number of Kalachakra teachings in different parts of the world such as Tibet, India, Mongolia and Western countries.
As part of his spiritual accomplishments, His Holiness the Dalai Lama will confer the 32nd Kalachakra Initiation at Bodhgaya as requested by the late Arunachal Pradesh Chief Minister Dorje Khandu and other generous sponsors, Kalon Tripa said.
We consider the forthcoming Kalachakra Initiation at Bodhgaya as a remarkable spiritual initiative on the part of the organising committee. Moreover, we equally recognise the significance of preserving the tradition of Kalachakra tradition through study and practice, Kalon Tripa added.
Kalon Tripa praised the members of the organising committee and the sponsors, including late chief minister Dorjee Khandu, for their initiative and firm commitment. Kalon Tripa also offered best wishes and prayers for a successful Kalachakra teachings at Bodhgaya.
Addressing the media, Lama Ngawang Norbu, the chairman of the organising committee said, pilgrims from across the world, including Tibet, Mongolia, China, Nepal, Bhutan and other Himalayan regions, would be attending the Kalachakra Initiation at Bodhgaya.
"There will be a prayer congregation of world's religious leaders and Nobel Peace Laureates for world peace," he said.