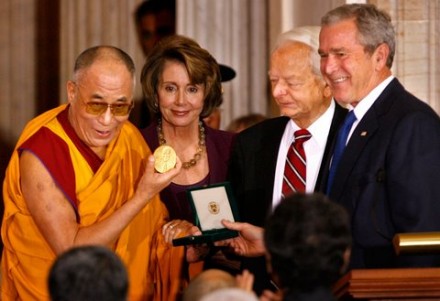 File photo of His Holiness the Dalai Lama receiving the US Congressional Gold Medal from President Bush, House Speaker Nancy Pelosi Sen. Robert Byrd, during a ceremony 17 October 2007 in the Capitol (Tim Sloan/AFP/Getty Images)
Dharamshala: US President Barack Obama will go ahead with his plans to meet His Holiness the Dalai Lama when he visits Washington next time, the White House Deputy Press Secretary said Tuesday.
His Holiness the Dalai Lama will visit United States from 17 to 24 February. His Holiness will give public talks on global compassion and world peace in California and Florida.
"The President told China's leaders during his trip last year that he would meet with the Dalai Lama, and he intends to do so. The Dalai Lama is an internationally respected religious and cultural leader, and the President will meet him in that capacity," Deputy Secretary Bill Burton said.
He said the US government has human rights concerns about the treatment of Tibetans. We urge the government of China to protect the unique cultural and religious traditions of Tibet," Burton said.
The Assistant Secretary of State for Public Affairs, P J Crowley, said that China has made its views clear to the U.S. on His Holiness the Dalai Lama.
"Chinese have made clear their views regarding meetings with the Dalai Lama, regarding arms sales to Taiwan, and I think what we're clearly indicating is that we will continue to follow our national interest just as we would expect China to follow its national interest," he said.
Responding to China's negative response to the future meeting between President Obama and His Holiness the Dalai Lama, Secretary for Information Thubten Samphel said: "From our perspective, we feel the role of the United States is to facilitate a just and honest dialogue between the Dalai Lama's envoys and the government of China."
"So there is nothing wrong in a meeting between the president and His Holiness," Mr Samphel told Agence France-Presse.
"The United States supports His Holiness's approach that the issue of Tibet must be resolved within the framework of the Chinese constitution," he said.
"So we see no reason for China's argument that such a meeting would undermine Sino-U.S. relations," he added.