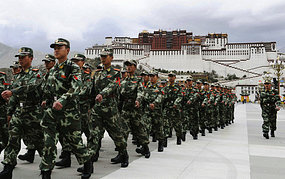 People's Armed Police soldiers patrol in front of Potala Palace. (Reuters/Kyodo)
The Olympic torch will be carried through Tibet today despite the efforts of protesters around the world.
The torch relay will start at Norbulingka, the old summer palace, and wind its way through the city for three hours.
The climax will be at the Potala palace, the one time home of the Dalai Lama.
ABC Online | Link