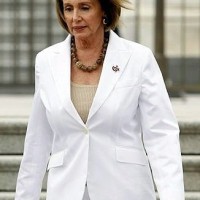 U.S. Speaker of the House Nancy Pelosi (D-CA) arrives in D.C. for the 20th anniversary of protests in Tiananmen Square/AFP
Dharamshala: Marking the 20th anniversary of the Tiananmen Square Massacre on Thursday (4 June), US House Speaker Nancy Pelosi joined fellow members of the US Congress and human rights activists to express their commitment to work until freedom and openness prevails in China and in Tibet.
China's right activist Yang Jianli and the Initiatives for China organised the gathering at the US Capitol Hill.
"Words fail me to adequately tell you what an honor it is to be on the same stage and in the presence of so many of the heroes of June 4 – to have a message at the same time from His Holiness the Dalai Lama in solidarity for more openness in China and Tibet.
His Holiness the Dalai Lama's statement in Chinese and English languages were read out on the occasion.
Addressing the gathering, Speaker Pelosi said: "We stand here in front of the Capitol of the United States, a beacon of freedom to the world, with a great history of free speech and open discussion.
"On this side of the Capitol, here on these grounds, we stand with people who took to heart and to mind, the words of our Founders. In our Declaration of Independence, in our Constitution, our words talked about every person being equal and 'endowed by their creator." 'Endowed by their creator,' not by the state, but 'endowed by their creator' of certain rights like liberty and the pursuit of happiness. And it was for life and liberty – and some people paid that price in Tiananmen Square. They paid with their lives and their liberty to speak out for freedom.
"It's interesting to me that this week there are also observances in Eastern Europe about freedom emerging there at this time 20 years ago. And for those of you who are old enough to remember Tiananmen Square, you would have seen that the students gathered in the square in May in the days leading up to June 4th were an inspiration to the world, to the entire world. They inspired others to have the courage and they had a drumbeat of liberty and freedom that was felt around the world.
"What they wanted was dialogue with their government on openness and freedom and freedom of speech and religion and ending the corruption in China. They wanted that dialogue, they wanted that conversation – what they got was crushed. Crushed. Some of those people crushed in the square and other streets of Beijing. But they could not crush the spirit of Tiananmen.
"And that's why it's important these 20 years later – I remember meeting Chai Ling in Paris. She was newly escaped from China – we are so proud of her, she is so courageous, and so many others, so many other heroes of that movement. Many of them, when they got out of China, signed my man before the tank poster in my office, which is getting old now, but I'm very proud of the signatures that are on there. They are the signatures to a declaration of freedom in China and what this freedom means is openness, freedom of speech, freedom of religion, accountability, rule of law according to the Chinese Constitution.
"So what is important for us to do now? Who would have ever thought all of you here who are gathered with great leaders for democracy? Who would have ever thought that 20 years later, we would still be in this situation? That the same cowardice that inspired – I don't know if inspired is the word – that insisted that the regime crush the people in the square – to clear that square at such and such a time. The same cowardice that did that – that same fear of the people exists in China today.
"We were told 20 years ago that peaceful evolution and economic reform would lead to political reform. Indeed, the economic reform has occurred. And I was so pleased that Secretary Clinton said in a statement that China has made enormous progress economically. I saw that last week in China. But she also said that a China that had made all that progress should examine openly the darker events of its past and provide a public accounting of those killed at Tiananmen Square – both to learn and to heal. We need to do that as we go forward.
"I have said over and over again: if we do not support human rights in China and in Tibet, we lose all moral authority to speak about human rights any place in the world. So here we are in front of the Capitol, a building symbolic of the core values of our American independence and our
Constitution, in solidarity with those who, using our words, modeling the Goddess of Democracy after the Statue of Liberty, having those aspirations – people carrying those aspirations crushed in Tiananmen Square.
"Twenty years later, the spirit is still alive. In Hong Kong in the observance of Tiananmen Square, over 150,000 people turned out last night. 150,000 people – the biggest crowd since the one-year anniversary of Tiananmen Square. So I know that the long arm of the Chinese government will be reaching out to the media all over the world to suppress reporting on what's happened in China, and also restricting communication from China through the Internet and the rest, but the fact is that here we are at the Capitol, there they were in Hong Kong, a drumbeat of activity across the world, an echo of the voices of the heroes of Tiananmen. We will never forget. We want a record of what happened, and we will continue to work for more openness and improvements in human rights in China and Tibet.
"Thank you for your courage to turn out here today, to stand in front of the Capitol, to hold us accountable to our own values, and to continue to work together to remember the Tiananmen Square Massacre, to get a public accounting of it.
"So our work is large. It's work that many of us have been involved in for 20 years. In 1991, I stood in the square and unfurled a banner remembering those who sacrificed so much in Tiananmen Square. I wear white today to signal to the families a sympathy for what they have lost. I did that in 1991 as a Member of Congress, an individual Member, to express my views and the views of my constituents. It was a bipartisan group of us on the square that day, Democrats and Republicans.
"Eighteen years later as Speaker of the House, I had the opportunity to sit across from the President of China, the Premier of China, the Chairman of the People's Congress, and to express to them the bipartisan concern in the Congress of the United States about China's human rights record both in China and in Tibet.
"Whatever our roles in whatever stage of our involvement, we have to use everything at our disposal so that they know that we have not forgotten, and that we will not rest until there is freedom of speech and expression and assembly and openness in China and in Tibet."