Dharamshala: The ongoing sixth session of Tibetan Parliament-in-Exile on Monday approved a motion tabled in the house regarding a draft proposal to convene the special general meeting on Tibet, which will be submitted to His Holiness the Dalai Lama to receive the final authorisation.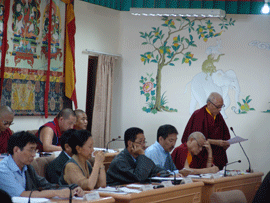 Kalon Tripa Prof Samdhong Rinpoche reading out the draft proposal for the special general meeting on Tibet, on Monday, 15 September 2008.
Considering the urgent situation inside Tibet and the situation in the world in general, His Holiness the Dalai Lama has called for a special meeting as enshrined in the article 59 of the Charter of the Tibetans-in-Exile.
The draft proposal was put forward by Kalon Tripa and supported by the deputy speaker.
After an extensive discussion and deliberations on the proposal, the Parliament unanimously approved that the meeting would be held from 17 – 22 November at the Tibetan Children's Village School in Dharamshala.
The composition of the representatives for the meeting include members of the Tibetan Parliament, members of the Kashag, former Kalons, former members of Parliament, CTA officials-based in Dharamshala, two envoys of His Holiness the Dalai Lama and representatives of His Holiness, settlement or welfare officers, representatives from the local assemblies, Bod Rawang Denpai Legul Tsogchung, four schools of Tibetan Buddhism and Bon religion, head of the schools and overseas Tibetan associations and representatives from Tibetan non governmental organisations.
The heads of the three independent bodies of the Central Tibetan Administration will attend the inaugural and final day of the meeting.
During the first four days of the meeting, ten or fifteen small committees would be formed to deliberate on the proposal and each committee will submit their recommendations to the general meeting on the fifth day. Based on these recommendations, a final resolution would be passed.
–Editing by Lobsang CHOEDAK