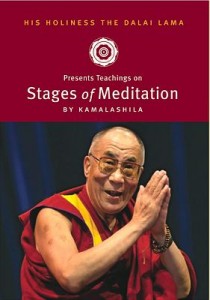 Stages of Meditation
His Holiness the Dalai Lama has returned to Australia to deliver five days of teachings at the Dome, Sydney Showground at Sydney Olympic Park from June 11-15 2008.
Described by His Holiness as a key that opens the door to all other major Buddhist scriptures, Kamalashila's classic text Stages of Meditation has been revered by Buddhists of all traditions since its creation.
Presenting the essence of the entire Buddhist Path to Enlightenment in 10 short chapters, Kamalashila's text places particular emphasis on calm abiding meditation and special insight. It demonstrates how carefully structured and conceptually informed meditation sessions serve as the bridge between the philosophical tenets of Buddhism and insight in the mind of practitioners.
Over the course of five inspiring days, by reference to Kamalashila's text, His Holiness the Dalai Lama will demonstrate how the nature of awareness, developed through meditative practices can be transformed into the direct perceptual wisdom necessary to achieve enlightenment itself.
His Holiness will deliver teachings in both morning and afternoon sessions throughout the course, with a special Chenrezig Initiation on the morning of the last day. Meditation and discussion sessions will be conducted around the teachings from early morning till evening each day, so for those wishing to, these five days can be like a retreat.
While anyone would benefit from attending, the course will be an extraordinary opportunity for those who wish to meditate.
This is a rare and important opportunity to understand why meditation is so important to Buddhism particularly and the spiritual life generally and to learn the art and practice of meditation from no less an authority than the Dalai Lama himself.
His Holiness has expressed the desire to make this teaching available to a broad base of Buddhists both in Australia and South East Asia. Tibetan, Mandarin and Vietnamese translations will be available.
For more information please visit www.dalailamainaustralia.org | Link