DHARAMSHALA: A prominent former scholar of Beijing University has commended the Central Tibetan Administration for adopting a "correct policy of reaching out to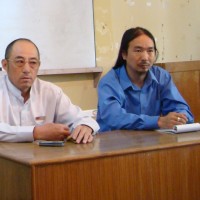 Mr Yuan Hongbing (left) during his visit to the Central Tibetan Administration in Dharamsala, India, in 2009. Also seen in the picture is Mr Sangay Kyap, head of the Chinese Desk at the Department of Information and International Relations
the Chinese people".
"In addition to liaising with overseas Chinese, the Tibetan side should strengthen its efforts in reaching out to the educated and influential Chinese people living in the Mainland," Mr Yuan Hongbing said during his meeting with His Holiness the Dalai Lama's Representative in New York.
During the meeting, Representative Kasur Lobsang Nyandak Zayul sought from Mr Yuan information about the prevailing social condition and political situation inside China. They also exchanged their work experiences.
"Mr Yuan, who is living in Sydney, has expressed his interest in meeting with Tibetan community in New York and accordingly the Office of Tibet in Canberra organised this visit," said Mr Kunga Tashi, Chinese liaison officer at the Office of Tibet in New York, who also attended the meeting.
"Mr Yuan gives due importance to the courage of Tibetan youths in leading their struggle," Mr Kunga said about the Chinese scholar's meeting with Tibetans in New York.
Recounting his visit to Dharamsala last year, Mr Yuan said he was highly impressed by way His Holiness the Dalai Lama gives equal respect to all sections of people despite his reputed status. He remembered how he saw tears coming out of a young Chinese man's eyes after looking at a picture of his audience with His Holiness the Dalai Lama. During the audience His Holiness extended both his hands and bow in front of that young Chinese man.
He participated in the Sino-Tibetan conference held in Geneva in 2009 towards finding a common ground on the issue of Tibet.
Mr Yuan is one of the many Chinese who supports the Tibetan people's struggle for truth and justice. He is known for his good contacts with the mainland China and carefully studies the happenings inside the country.
He graduated from Beijing University with a master's degree in criminal procedure in 1986 and went on to head the School of Criminal Procedural Law at Beijing University. Mr Yuan's outspoken views against the Chinese government on the Tiananmen protests in 1989 and his involvement in peace initiatives for which he was detained in 1994 forced him to flee into exile. In 2004 he sought political asylum in Australia.
'Winds on the Plain' and 'Taiwan Disaster' are the two critically acclaimed books authored by Mr Yuan.