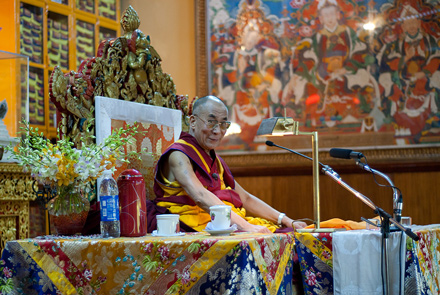 flash0609102738

Dharamshala: His Holiness the Dalai Lama will give three-day teachings on The Heart Sutra (sherab nyingpo) and Gyalsey Thokme Sangpo's 37 Practices of A Bodhisattva (gyalsey laklen sodunma) at the request of a group from Southeast Asia. The teachings will be  held at the Main Tibetan Temple in Dharamsala, from 8 – 10 September 2010.
There will be two sessions each day from approximately 9:30am-11:30am and 1:00pm-3:00pm Indian Standard Time (GMT+5.30). For timings in your region 9:30am Indian Standard time on 8 September is the same as 9:00pm 7 September Pacific Daylight Time in Los Angeles, USA.
Live Webcast: English Language view here.
Live Webcast: Tibetan Language view here.
Live Webcast: Chinese Language view here.