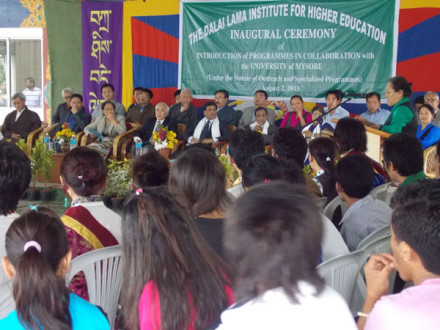 DHARAMSHALA: The Dalai Lama Institute for Higher Education in Bangalore has introduced degree programmes in BA, B.Com, and BCA studies under its outreach and BA Honours in Tibetan and Chinese Languages under specialised programmes. This is part of a memorandum of understanding signed between the institute and the University of Mysore in April this year.
Under the specialised programs, the candidates will have the option at the end of three years or six semesters with BA degree in Tibetan or Chinese language and literature. Candidates from alternative education systems like monastic education will be eligible for admission and can earn BA Honours degrees.
The Dalai Lama Institute organised a special ceremony to mark the introduction of degree programmes from the new academic session on 2 August. Dignitaries present at the function include Mr K.K Rangappa and the Vice-Chancellor of the University of Mysore, Kasur Tempa Tsering, the representative of His Holiness the Dalai Lama in New Delhi, members of Tibetan Parliament-in-Exile and Chief Representative of South Zone.
Vice-Chancellor Prof Rangappa in his speech said: "the Tibetan students should never feel that they are foreigners in India. There should not be an iota of doubt in your minds that you will not be treated as one of us here in the University of Mysore." He further said: "I will support in whatever way I can to make your programmes a success in this institute."
Addressing the gathering, Prof P Nagabushan, the Chief Nodal Officer and Professor of Computer Science at the University of Myore, said: "The Dalai Lama Institute for Higher Education should now make preparations to start Masters and research work in Tibetan studies." He has been instrumental in getting the University of Mysore's recognition for the Dalai Lama Institute's programmes.
Dr. B. Tsering, the Principal of the Dalai Lama Institute said, "the ultimate goal of the DLIHE is to be an independent university with both specialised and conventional programmes that extend right up to Ph.D level.
On 12 and 13 July, 2013 the institute's Board of Studies (BoS) members met in New Delhi for further deliberation on syllabuses, scheme of instructions and appointment of Panel of examiners for programmes.
The Dalai Lama Institute for Higher Education was started on 30 July 2008. His Holiness the Dalai Lama consecrated it on 16 February 2009.