DHARAMSHALA, December 22: Tibetan spiritual leader His Holiness the Dalai Lama has expressed his sadness and concern over the loss of lives in the unfolding flash flood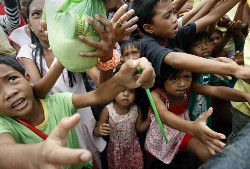 Residents line up for relief supplies at an evacuation center in Iligan City, Philippines on December 19, 2011. (AP/Bullit Marquez
tragedy in Philippines.
In a letter sent to the President of the Philippines His Excellency Benigno Aquino III, yesterday, the Dalai Lama expressed his "sadness and concern" about the loss of lives and damage to property caused by the recent unprecedented flash floods on the southern Philippine island of Mindanao.
His Holiness offered his condolences to the families that lost their loved ones in the flash floods that now has been declared a national calamity by the President.
The Dalai Lama also offered his prayers for the deceased and others affected by the devastating floods. Nearly 1,000 people have reportedly died after typhoon Washi hit the southern Mindanao island over the weekend, causing huge flash floods. The death toll is expected to rise. 


As a token of sympathy and concern the Tibetan spiritual leader made a donation from The Dalai Lama Trust to support the relief work.
About 40,000 people on Mindanao are now living in evacuation centres as nearly 30,000 houses were destroyed and damaged.
Aid workers have appealed for bottled water, blankets, tents and clothes for many of the 45,000 in crowded evacuation centres.
Philippines is struck by several typhoons and tropical storms every year.