DHARAMSHALA: The Tibet Museum of the Department of Information and International Relations in Dharamsala will be organising a photo exhibition on the life of His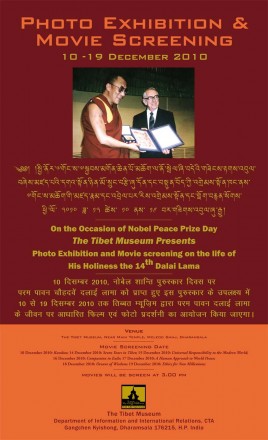 flash0612103110
Holiness the 14th Dalai Lama to commemorate the conferment of the Nobel Peace Prize on His Holiness the Dalai Lama in 1989.
The photo exhibition is scheduled from 10 to 19 December 2010 at the Tibet Museum, located near the main temple at Mcleod Ganj.
In the afternoon, movies and documentary films based on the life of His Holiness and his teachings will be also screened from 3 pm at the same venue. The exhibition will showcase photos depicting His Holiness the Dalai Lama's early life and responsibility, his escape into exile, prestigious international awards conferred on him, and his meeting with different religious heads and world leaders.
His Holiness received the Nobel Peace Prize in recognition of his struggle for the liberation of Tibet through peaceful solutions based upon tolerance and mutual respect in order to preserve the historical and cultural heritage of his people. According the Norwegian Nobel Committee, His Holiness the Dalai Lama has developed his philosophy of peace from a great reverence for all things living and upon the concept of universal responsibility embracing all mankind as well as nature. In the opinion of the Committee the Dalai Lama has come forward with constructive and forward-looking proposals for the solution of international conflicts, human rights issues, and global environmental problems.
Movie Screening Dates:
10 December 2010: Kundun
14 December 2010: Seven Years in Tibet
15 December 2010: Universal Responsibility to the Modern World
16 December 2010: Compassion in Exile
17 December 2010: A Human Approach to World Peace
18 December 2010: Oceans of Wisdom
19 December 2010: Ethics for New Millennium