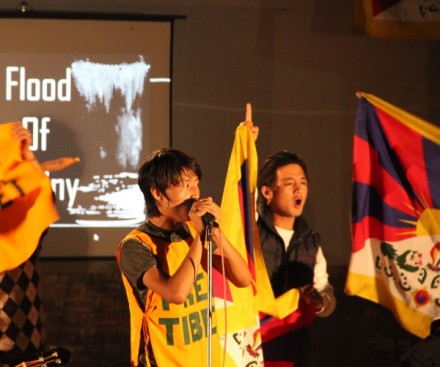 Students of MS University of Baroda participating in Tibet awareness programme.
DHARAMSALA: Tibetan youths studying at MS University of Baroda organised a Tibet awareness programme on 12-13 January, which was attended by more than 500 students.
Prof Chundavad, Vice Dean of the faculty of arts, and Foreign Students' Advisor of the university, lauding the Tibetan youths' endeavours on Tibet campaign, expressed his steadfast support for the cause of Tibet.
Mr Tenzin Norbu, Head of Environment and Development Desk of the Department of Information and International Relations, talked about 'Impacts of climate change and mining on Tibet's environment'.
Mr Tenzin Tsundue, Tibetan freedom activist, and  Mr Tenzin Lekshay, Co-ordinator, India Tibet Co-ordination, spoke on Tibetan freedom movements and relations between India and Tibet respectively.
During the two day event, Tibetan students participated in various activities to highlight Tibet issues such as disseminating information on His Holiness the Dalai Lama, Tibet's political situation, and Tibet's fragile environment.
A rock show was presented to thousands of audience on the final day of the event.