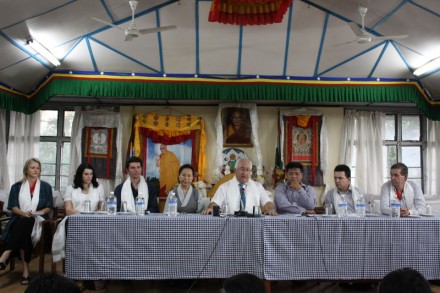 File photo of Liberal MP Peter Slipper (1st right) with members of the first Australian All-Party Parliamentary Group
DHARAMSHALA: The Tibetan Parliament-in-Exile today sent its congratulatory message to the newly elected Australian House Speaker Peter Slipper, lauding his kind support towards the issue of Tibet.  
TPiE Deputy Speaker Khenpo Sonam Tenphel wished Mr Slipper "great success and expressed hope that the Australian Parliament would achieve many milestones under his leadership".    
"We are highly grateful and extend our appreciation for your kind support towards the Tibetan cause. We continue to look for your greater role in the eventual resolution of the Tibetan issue," the deputy speaker wrote in the message.  
"The Tibetan Parliament in Exile is looking for re-strengthen its close ties with the Australian Parliament in years to come," the message noted.  
Mr Peter Slipper serves as the vice-chair of the Australian All Parliamentary Group for Tibet and a long time supporter of Tibet.
Co-hosting a visit by His Holiness the Dalai Lama at the Australian Parliament in June 2009, Mr Slipper, deputy speaker at that time, received an invitation from His Holiness to visit the Tibetan community in Dharamsala.
He became part of the first-ever Australian All-Party Parliamentary Group for Tibet delegation to visit Dharamsala in July 2009.