DHARAMSHALA: Three Tibetan monks belonging to Gonsar Monastery in Derge in eastern Tibet who led a peaceful protest against the Chinese government's wrong policies on Tibet in 2009 testified that "Tibetans living inside Tibet yearn to see His Holiness the Dalai Lama like cuckoo birds wait for rains to quench their thirst."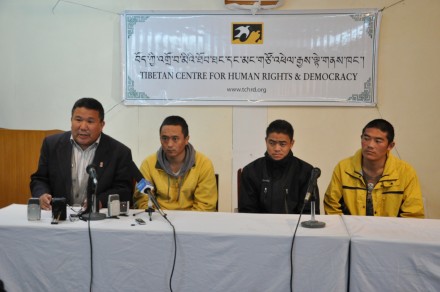 From right: Khedup Gyatso, Lobsang Norbu and Kunga Rinchen during the press conference
"Tibetans living inside Tibet have deep yearning to see His Holiness the Dalai Lama back in their homeland," they said.
The monks – Lobsang Norbu, aged 30, Khedup Gyatso, 24 and Kunga Rinchen, 26 – passed through a year-long ordeal as they had to hide in isolated nomadic areas, forest and hills to evade police arrest for their role in the protest at Derge county's Za-Khok township and Gonsar monastery on 10 September 2009.
"The Chinese government denied the monks at Gonsar Monastery to pray to our spiritual leader His Holiness the Dalai Lama," Lobsang Norbu, one of the monks, told reporters today in their first press conference after reaching Dharamsala, India, on 15 November 2010.
"We made Tibetan national flags and posters and pasted around the monastery's premises and around Za-Khok township to express our deep grievances against the blatant violation of Tibetan people's fundamental rights such as freedom of expression and religion by the Chinese government," Norbu said, adding that the monastery has over 200 monks.
The posters carried slogans that said "Tibet was an independent country".
He said "three of them wrote their own names on the posters so that other monks and the public would not come under trouble from the authorities". But two monks of the monastery – Lobsang Dhonyoe and Taygya – were later arrested and sentenced to six and two years imprisonment respectively for their role in writing the posters, he said.
"After we fled, around 300 Chinese police laid siege to the area and rounded up residents for interrogation during which my father died due to torture and beating," Lobsang Norbu said. "The police forced the residents to do hard labour and fetch water to cook food for them. They tried to arrest nine people under the pretext of questioning them regarding our whereabouts. As the women shouted to avert arrest, the police shot at them wounding two of the women with serious eye injuries. Eventually, the police took the nine people into their custody and as they failed to extract any information about us they were released after paying a fine 10,000 Yuan each," he added.
Responding to a question about the condition of Tibetan nomads in Tibet, Lobsang Norbu said "it is hard for animal herds to survive and many perish as the government has closed grasslands using barbed wire fencing."
"The local Chinese police have announced a reward of 20,000 Yuan to whoever gives information of our whereabouts, but later when they were not able to get any information the reward was increased to 50,000 Yuan. The police are also searching for us around the region," the monks revealed in their testimony to the human rights watchdog Tibetan Centre of Human Rights and Democracy.
"The fear of arrest has forced us to leave our country on 7 October 2010. Walking for 23 days from Lhasa through Nepal-Tibet border, we reached Kathmandu on 30 October 2010. We arrived in Dharamsala, India, on 15 November 2010," the monks said.