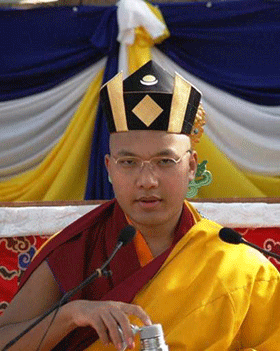 Gyalwang Karmapa at 24th Kagyu Monlam in Bodhgaya
Thursday 26 June: Tibetan Buddhists living in Dharamshala celebrated the 23rd birthday of His Eminence the 17th Gyalwang Karmapa, Ogyen Trinley Dorje, head of the Karma Kagyud tradition.
Karma Kagyud is one of the four greater subsects of Kagyud school of Tibetan Buddhism.
Officials from the Department of Religion and Culture of the Central Tibetan Administration attended the function here at the Gyutoe Tantric Monastery.
Hundreds of Tibetans chanted hymns praying for peace and harmony and performed traditional dances, ANI reported Thursday.
"They are praying for Gyalwang Karmapa's long life. They are also praying for world peace. The reason is to free everybody from sufferings," said Lama Phungstok, the personal secretary to Gyalwang Karmapa.
On 27 September 1992, Gyalwang Karmapa was enthroned in Tolung Tsurphu Monastery in Central Tibet, the historic seats of the Karmapas. After fleeing Tibet, Gyalwang Karmapa arrived in Dharamshala, India, on 5 January 2000 and received an audience of His Holiness the Dalai Lama for the first time.
Gyalwang Karmapa left his country to impart the Buddha's teachings in general and, in particular, to receive the excellent empowerment, transmissions, and instructions of his own Karma Kagyu tradition.
In May this year, Gyalwang Karmapa paid his historic visit to the United States to deliver a series of public teachings.