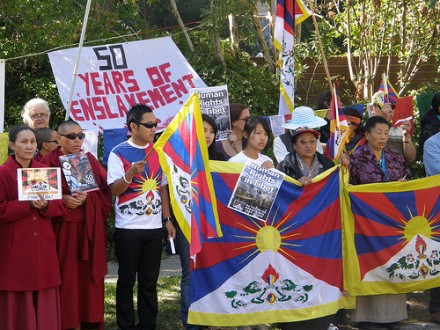 Tibetans Protest at the Chinese Consulate on 28th March in Melbourne Australia
There was a strong gathering of Tibetan and Tibet Supporters outside the Chinese Consulate today. The weather was beautiful and hearts were strong, as united voices came together in outcry against the appalling behavior of the Chinese government, who have made March 28th 'Serf Emancipation Day'.Thus forcing Tibetans in Tibet to celebrate the a day for the loss of their leader, the loss of their freedom, the loss of their culture.
Sandup Tsering, president of the Tibetan community in Victoria lead the protest with a very meaningful description of the situation, which has been a very consistent Tibetan point of view. "This is provocative and an insult to the Tibetan people past, present and future, because this sets a law on Tibetans to do something against our will and conscience. How could we celebrate the death of our people and our nation? That is why we are here today, to condemn it!' Sandup went on to explain 'this is a blatant lie, an attempt to rewrite Tibet's history, the reality is the complete opposite.'
It was a very peaceful but well represented protest, overseen by the friendly and cooperative Victorian and Federal Police. The event was covered by SBS and the international organization NTDTV, who are apparently able to broadcast uncensored into China.
Prayers lead the occasion and other speakers included Tenzin Tsethar of the Tibetan Youth Group. The leafy South Yarra suburb where the consulate lies, also rang with the cries 'We will never give up, China is lying – Tibetans are dying, Genuine dialogue – no more killing'. Plees to the Chinese consulate, just a few metres away for some fairness and justice for their people.
At the closure, Sandup thanked everyone, including the police for their respect and restraint. The Tibetan community of Melbourne then, quietly and carefully collected all their things and left the usually quiet street as they found it. But with them, they took the pain of knowing that there is a long and trecherous road a head, perhaps for generations, until the culture known throughout the world for kindness and love is able to bloosom again in their land of Tibet.
Reported by
Rob Perry
ATC Vic Branch Secretary