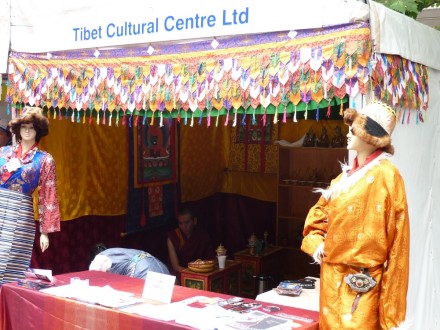 A Tibetan stall at the annual National Multicultural Festival in Canberra, Australia, on 11-13 February 2011
DHARAMSHALA: The cultural centre of the Office of Tibet in Canberra had showcased Tibet's rich and vibrant cultural heritage at the annual national multicultural festival of Australia, winning accolades from thousands of performers and visitors from across the nation and globe.
During the weekend of 11-13 February, Australia's capital Canberra celebrated the country's rich and vibrant cultural diversity. The nationalities of different countries living in Australia exhibit their rich culture, food and folk dances during the festival. The embassies also participate in the event to highlight their exhibits.
This year the visitors got a glimpse of Tibet's rich cultural heritage at the Tibetan stalls.
A wide array of traditional artifacts kept in the Tibetan homes such as altar with idols of Buddha and items used in religious offerings made of silver were put on display in a specially made tent house.  Inside the tent, the wall was adorned with exquisite Tibetan scroll paintings (Thangka) on brocade, and religious and household culinary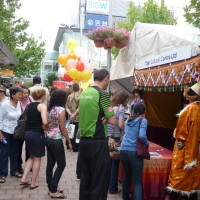 Visitors throng a Tibetan stall at the annual National Multicultural Festival in Canberra, Australia,
items like cups and teapots arranged on the table as customary in the Tibetan households.
The collection of traditional dances and songs from the Tibetan Institute of Performing Arts were screened to exhibit the dresses of Tibet.
Moreover, the visitors who have keen interest to learn about Tibet were apprised with nuggets of information such as books authored by His Holiness the Dalai Lama, websites on Tibet, info on Tibetan Institute of Performing Arts and scholarships and educational programme of the Department of Education among others.
Other Tibet related information like His Holiness the Dalai Lama's visits around the world and cultural activities of the Office of Tibet were widely disseminated to the visitors.
The members of Tibetan community in Canberra put up stalls to showcase Tibetan cuisines. Tenzin Choegyal, a Tibetan artiste in Brisbane, sang folk songs on Tibetan lute and he was joined by a performer from Japan. A group of young dance troupes from the Tibetan community in Sydney presented a folk dance on the beats of lute.
In a message to TibetNet, Representative Sonam Norbu Dagpo said: "The visitors took great delight and interest in the Tibetan aspect of the festival. The organising committee of the Canberra multicultural festival awarded the first prize to our office for its excellence in display category."
The rich flavor of the Tibetan cuisines and the melodious Tibetan folk songs and dances were also very much admired by the visitors, Mr Dagpo said.