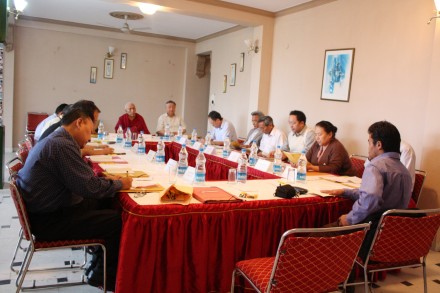 Task Force members attend a two-day meeting in Dharamsala, India, on 8 June 2010/ Photo by Namgyal Tsewang/TibetNet
Dharamshala: The 22nd meeting of the Task Force on Sino-Tibetan dialogue process commenced this morning in Dharamsala.
Kalon Tripa Prof Samdhong Rinpoche is presiding over the two-day meeting attended by Task Force members, which include His Holiness the Dalai Lama's special envoy Kasur Lodi Gyari and envoy Kelsang Gyaltsen.
The last meeting was held in March this year following the ninth round of dialogue between the envoys of His Holiness the Dalai Lama and the Chinese leadership in Beijing from 26 – 31 January 2010. During the ninth round the envoys presented a seven-point note to the Chinese leadership to clarify their core concerns and objections on the Memorandum on Genuine Autonomy for the Tibetan People.
The Task Force was established in 1999 under the supervision of Kashag to assist the envoys of His Holiness and members of the Tibetan delegation in the dialogue process with the Chinese government.