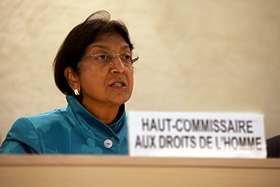 Navi Pillay addresses the 12th session of the Human Rights Council in Geneva/© UN photo/Gilles Sereni
Dharamshala: Expressing concern over the recent events in Tibet and East Turkestan (Chinese: Xinjiang), Ms Navanethem Pillay, the United Nations High Commissioner for Human Rights, on Tuesday called on the Chinese government to examine the underlying causes of the incidents, highlighting "discrimination and the failure to protect minority rights by the Chinese authorities".
"I followed with concern the recent disturbances in the Xinjiang Autonomous Region and those previously in the Tibetan Autonomous Region and surrounding areas," Ms Pillay said in a key-note address to the members of the Human Rights Council at the 12th session of the Human Rights Council in Geneva.
"While condemning such violence and urging the Chinese authorities to respect human rights in upholding the law, I also encourage them to reflect on the underlying causes of such incidents, which include discrimination and the failure to protect minority rights," Pillay added.
The UN human rights chief's address was focused on several specific overarching human rights concerns. (read full statement here)
Pillay called on the governments to release those detained for peaceful protest, to investigate reports of their ill-treatment, and to ensure respect for human rights.
"I remind all Member States of their obligation to protect human rights defenders, as well as the press, from any form of violence, intimidation or discrimination, and to hold accountable those who are responsible for any such acts of violence, intimidation or discrimination. Peaceful political opposition must not be repressed."
"Clearly, no human rights defender is safe when democratic institutions of governance are inadequate and unaccountable, when the rule of law remains an aspiration rather than a reality, and when corruption, co-option, or coercion hold sway."
"Democratic deficits, in particular, remain a significant obstacle to the protection of human rights and respect for the rule of law."
"The Human Rights Council must achieve a sense of shared purpose and be a paragon of international cooperation on behalf of human rights. To ensure its credibility, this body should be prepared to confront violations wherever and whenever they take place. A failure to rise to this challenge would constitute a betrayal of the victims of human rights violations all over the world who place faith in the United Nations and, in particular, the Human Rights Council. I know that you can meet the international community's expectations, and I welcome the opportunity to assist you in such endeavour."
Pillay concluded by reiterating her commitment to the "impartiality" and "independence" of her Office. "My goal, and I trust our common goal, is to focus on and protect all human rights for all."
The 12th session of the Human Rights Council takes place from 14 September to 2 October at the Palais des Nations in Geneva. More information is available on the webpage of the session, which is also webcast live.