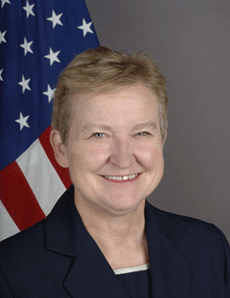 Nancy Powell, the US ambassador to Nepal
Friday, 2 May 2008, Dharamshala: The United States Ambassador Nancy Powell called on Prime Minister Koirala Thursday to express official concern about the treatment of Tibetans by Nepali authorities, besides discussing the current political-economic situation in the wake of the final election results.
Ambassador Powell urged the Prime Minister to ensure that the right to peaceful protest was maintained and that the human rights of Tibetans in Nepal are respected. She welcomed the respect accorded to Tibetans during their 28 April protest at Swayambunath.
Lodi Gyari, special envoy of His Holiness the Dalai Lama said the government of Nepal, which shares a long history with Tibet, has behaved in a most reprehensible manner, cracking down on Tibetans who live in Nepal and have been protesting in solidarity with the brothers and sisters inside Tibet.
"Nepal is acting almost as an extension of the brutal regime on the other side of the Himalayas, a reaction that has many Nepalese deeply disturbed and ashamed for their government," the envoy stated in his testimonial on Tibet in Washington, DC on 23 April.
Earlier on, the Sherpa Himalayan community of Nepal voiced their serious concern on the Nepalese government's repressive handling of peaceful Tibetan demonstrators.
Terming the actions as both inhuman and repressive, they said, it is also a very serious violation of the Interim Constitution of Nepal, which upholds the dignity of the basic human rights.
They said Tibetans shares same religion, culture, language and tradition with us and we are pained to see beating of protesting Buddhist monks whom we revere very highly.
The Sherpa community have urged the government of Nepal to stop the double standard of dealing with the Tibetan refugees.