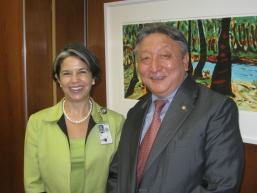 Ms. Maria Otero, with Kasur Lodi Gyari, His Holiness the Dalai Lama's Special Envoy/Photo: ICT
Dharamshala: US Under Secretary of State Maria Otero has been appointed as the Special Coordinator for Tibetan Issues. The formal announcement was made Thursday, 1 October, by Secretary of State Hillary Rodham Clinton.
The appointment of the Special Coordinator for Tibetan Issues is mandated by the Tibetan Policy Act of 2002 and is an indication of the United States' commitment to a negotiated resolution on Tibet that preserves the distinct religious, cultural and linguistic heritage of the Tibetan people.
In September this year, Under Secretary Otera and Ms. Valerie Jarrett, President Barack Obama's Senior Advisor and Assistant, met His Holiness the Dalai Lama in Dharamsala to convey "President Obama's commitment to support the Tibetan people in protecting their distinct religious, linguistic, and cultural heritage and securing respect for their human rights and civil liberties".
His Holiness the Dalai Lama welcomed the decision to appoint Under Secretary Maria Otero as the Special Coordinator for Tibetan Issues and said he looked forward to working with her.
His Holiness greatly appreciated President Obama's concern for the situation in Tibet and said he was hopeful that during his presidency the Tibetan people can see progress in the resolution of their problem. His Holiness is looking forward to meeting President Obama after his visit to China.
Under Secretary Otero concurrently serves as Under Secretary of State for Democracy and Global Affairs, a position also previously held by Paula Dobriansky, the Special Coordinator for Tibetan Issues under the Bush Administration.
During her confirmation hearing on 25 June 2009 before the Senate Foreign Relations Committee, Ms. Otero stated that the Obama administration was "disappointed by the lack of progress during eight rounds of talks between the Chinese government and the Dalai Lama's representatives," adding that "substantive dialogue…holds out the best hope for progress in addressing the legitimate, longstanding, concerns of Tibetans, which have been a key factor in recent unrest."
Among the responsibilities of the Special Coordinator for Tibetan Issues as outlined in the Tibet Policy Act of 2002, Under Secretary Otero will work to promote "substantive dialogue" between His Holiness the Dalai Lama or his representatives and the government of the People's Republic of China, as well as coordinate United States government policies, programs and projects related to Tibet.