Dharamshala: At least 400 people have been killed, and 10,000 others have been injured after the devastating earthquake struck Yushul/Kyigudo in Tibet's Kham Province on Wednesday morning, media reports said quoting government officials. It is not known how many are still buried.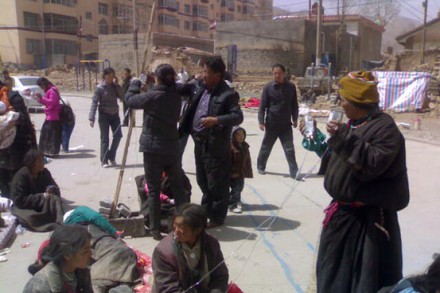 People gather outside after being evacuated from buildings following an earthquake that hit Yushul/Kyegudo in Tibet's Kham Province on Wednesday/Associated Press Photo
The quake was centred 150 miles (240 km) north-north-west of Chamdo in Tibet and 235 miles (375 km) south-south-east of the mining town of Na Gormo in Amdo Province. The Xinhua news agency placed the epicentre at Rima Village, about 50 km west of Kyigudo.
The China Earthquake Networks Centre, measured the earthquake's magnitude at 7.1 which toppled 85 percent of houses in Kyigudo township.
A local government web site puts the county's population in 2005 at 89,300 – a community of mostly herders and farmers.
The state media reported further that a series of quakes and aftershocks caused low, brick buildings to collapse.
French news agency AFP notes that the remote high-altitude region is prone to earthquakes.