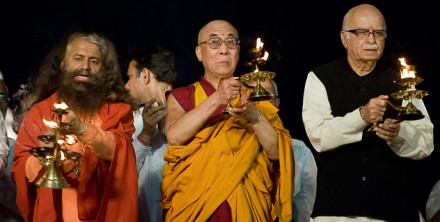 His Holiness the Dalai Lama (C) with Mr. L K Advani, (R) NDA working chairman. Photo/ dalailama.com
Dharamshala: His Holiness the Dalai Lama joined a series of programmes organised by Parmarth Niketan, an ashram in Rishikesh, as a part of the ongoing Maha Kumbh mela (large religious gathering of Hindu religion) on Sunday.
"Encyclopaedia of Hinduism" was launched by His Holiness the Dalai Lama, Yoga Guru Swami Ramdev, NDA working chairman L K Advani and others at a function that drew a galaxy of spiritual gurus and leaders from the BJP and VHP.
Lauding the Indian tradition His Holiness the Dalai Lama said, "India must take the lead in promoting secular ethics with Indian tradition of non-violence and harmony among various faiths."
His Holiness the Dalai Lama along with other spiritual gurus and BJP leaders L K Advani and Uttarakhand Chief Minister Ramesh Pokhriyal took part in the 'Ganga Sparsh Abhiyaan' function aimed to keep the Ganga river clean organised by the Uttarakhand government.
–Report compiled from ANI and Indian Express