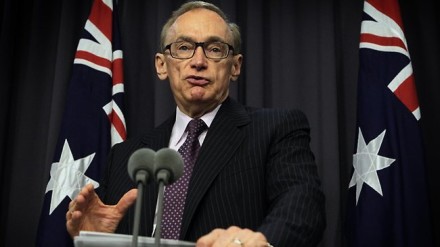 [Kyodo News International]
Australian Foreign Minister Bob Carr on Friday voiced hope for an easing of tensions in China's ethnic Tibetan regions during a speech in Hong Kong.
Addressing the Australian Chamber of Commerce in Hong Kong, Carr told reporters that negotiations on autonomy between Beijing and the Tibetan community are key to resolving the tensions and ending the spate of self-immolations by Tibetan protestors.
"Tibet is part of China," Carr said, "but we believe there's an opportunity for pursuing autonomy, and the autonomy negotiated between China and the Tibetan community is the way of seeing an end to the (self-immolations)."
Carr said it is up to Beijing to determine if it should engage the Dalai Lama in autonomy negotiations, adding that "China said things that encourage us to think that the talks could be given a new lease of life."
The Tibetan spiritual leader paid a visit to Australia last month, but then Prime Minister Julia Gillard refused to meet him, drawing criticism that she succumbed to Chinese pressure.
Some 120 Tibetan monks, nuns and laypeople have set themselves alight in protest against China's rule since the 50th anniversary in 2009 of Tibet's failed uprising against China. That year was marked by an increase of human rights abuses in Tibet and a travel ban on foreign individual visitors to the region.
"We would like, I and ambassador, to be able to travel in Tibet to talk to people and to inspect Australian-aid projects. We have got a fruitful dialogue with China about human rights matters and that include human rights matters that grow out of the tensions in Tibet and Tibetan regions," Carr said.
Carr has been criticized before by the Chinese government for interfering in China's domestic affairs, and numerous requests by the Australian ambassador to China to visit Tibet were turned down by Beijing, it was reported in February.
In the speech, Carr also highlighted the importance of close bilateral ties.
"As China reforms its economy, and as Australia implements a productivity-improvement program, there will be countless opportunities to build on (the Australia-China) relationship," he said.
On free trade agreement negotiations with China that began in 2005, Carr said Canberra is willing to set aside any barrier agreed by both sides and "get on with the main game."
Commenting on Hong Kong's democratization process, Carr said Australia supports self-government and is following political developments in Hong Kong closely.
"But when it comes to how (democracy) is implemented in practice, of course we can't design an electoral system for this jurisdiction. That's a matter that must emerge between the people of Hong Kong and the official leadership," Carr said.
The H.K. government has said it will consult the public on a political reform package that facilitates universal suffrage in the next Hong Kong leadership election in 2017, which Beijing has promised to be democratic.
Carr is currently on a 10-day trip to China that will also take him to Sichuan Province, Chongqing municipality and Fujian Province until Aug. 3