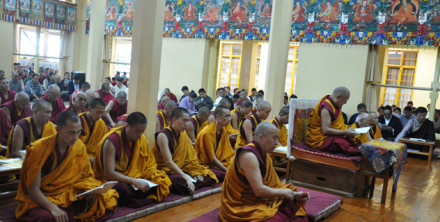 DHARAMSHALA: The Central Tibetan Administration today organised a special prayer service in Dharamsala for all those Tibetans who have set themselves on fire to protest against the repressive policies of the Chinese government.
Kasur Kirti Rinpoche, head of Kirti Monastery, presided over the prayer service attended by the general public and the entire officials and staff of the Central Tibetan Administration.
"We offer our deep condolences and prayers to the family members of Kunchok Sonam, an 18-year-old monk from Zoege in northeastern Tibet's Ngaba region, who died after setting himself on fire to protest against the Chinese rule last Saturday," said Dr. Lobsang Sangay, Sikyong or the democratically-elected Tibetan leader and political successor to His Holiness the Dalai Lama.
"The situation in Tibet remains grim in view of the continuing self-immolations by Tibetans, the Sikyong said, adding, "22 self-immolations have taken place in this year alone." He urged the Chinese leadership to address the genuine grievances of the Tibetan people.
Since 2009, 120 Tibetans have set themselves on fire in Tibet calling for the return of His Holiness the Dalai Lama to Tibet and freedom for Tibetans. Despite repeated appeals by the Central Tibetan Administration to refrain from drastic actions, the self-immolations by Tibetans persist.