DHARAMSHALA: The Offices of Tibet in Australia and Belgium have appealed for assistance from their host countries to persuade the Chinese government to end the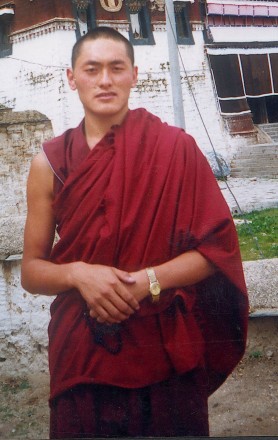 Photo of Lobsang Dhargye, a monk of Kirti Monastery who was detained by the Chinese authorities on 12 April 2011
military blockade of Kirti Monastery in Ngaba in northeastern Tibet.
His Holiness the Dalai Lama's Representative to Australia, Mr Sonam N Dagpo, had called on Senator Bob Brown to urge Prime Minister Julia Gillard and Foreign Minister Kevin Rudd to persuade Chinese authorities to ease the restrictions on the monastery.
"Australian Greens Leader Bob Brown has written to Foreign Minister Kevin Rudd to ask Australia to make urgent representations to China after the military blockade of the Kirti monastery in Tibet," The Australian Greens said in a press release issued on 14 April.
"China's military crackdown follows the suicide protest of a monk last month to mark the anniversary of protests which saw at least 10 people killed at the monastery in 2008," Senator Brown said.
"The local Tibetan community is greatly alarmed by what is happening and has reported that the Chinese military has barricaded the monks and are restricting food supplies going in and out of the monastery. Some Tibetan groups have expressed grave concerns that monks and their supporters may be indefinitely detained, or worse, killed," he added.
In response to an appeal from the Office of Tibet in Brussels, Mr Fiorello Provera, Member of European Parliament (MEP) and Vice-Chair of the Foreign Affairs Committee, has written to High Representative Catherine Ashton expressing his concern about the deteriorating situation at Kirti Monastery and calling on the EU to take a firm stance.
In addition to some 30 MEPs, the office of Tibet has also written to the Deputy Secretary General of the European External Action Service of the Commission and the Belgian Foreign Ministry.
Meanwhile, a rights group based in Washington, DC which monitors situation inside Tibet reported yesterday that even though lay people were allowed to deliver food to Kirti monastery, it is still under lockdown and surrounded by armed troops.
The International Campaign for Tibet also reported that around 34 Tibetans were detained in Ngaba during the crackdown against monks and the lay community at Kirti monastery over the past few weeks.