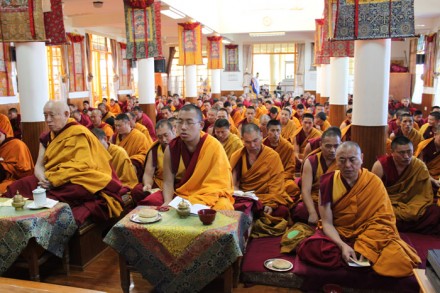 A special prayer service was held this morning at Tsuglagkhang, the main temple in Dharamsala, to mourn those who lost
DHARAMSHALA: On this day in 2010, tragedy unfolded in Kyegudo (Chinese: Yushu) in eastern Tibet's Kham province after a massive 6.9-magnitude earthquake unprecedented in the history of the region struck, which left over 2,700 people and thousands homeless.
The Tibetan people, including monks from the neighbouring monasteries, were in the forefront of the relief operation in the immediate aftermath of the disaster. The Chinese government said it also dispatched rescue team and essential relief materials such as tents, medicines to the region.
There was an overwhelming response from the international community in sending much needed supplies and supporting local Chinese relief efforts.
As an expression of sympathy for and solidarity with those affected by the tragedy, the Tibetan people in exile offered donations for the relief efforts through a Tibetan relief committee formed in Dharamsala. The "4-14 Yushu Earthquake Charity Committee" was established by Tibetan youths from Kyegudo, now residing in Dharamsala. A total of 2.5 million Indian Rupees contributed by Tibetans living in exile was handed over to the Yushu Earthquake Charity Committee at a prayer service in Dharamsala on 11 May 2010.
His Holiness the Dalai Lama presided over the customary prayer services to bring spiritual solace to the deceased and strength to the survivors to rebuild their lives.
But the suffering of the local Tibetans still persist one year after the earthquake.
There is growing resentment among the local Tibetans against the reconstruction plans implemented by the Chinese government.
Earlier this month, local Tibetans staged protest against the Chinese government's attempt to usurp their land,  according to information received by the Central Tibetan Administration. The protestors were seen holding banners and signs with slogans that read "Our land belongs to us," and "Help for the Yushu disaster area should put ordinary people's benefits first. This concerns people's lives. Reasonably plan the land of our lives."
In an interview with Radio Free Asia's (RFA) Tibetan service, one of the participants in the demonstrations said that "the protesters were beaten, and many were injured. Several of them were detained and taken away."
Tibetan protests have persisted throughout the reconstruction process, due in large part to a lack of transparency and responsiveness on behalf of the authorities, who have also excluded most all Tibetan involvement in the reconstruction planning process, despite Yushu being a Tibetan area with a strong sense of Tibetan identity and maintaining historically significant religious and cultural institutions, reported the International Campaign for Tibet which monitors rights issues inside Tibet.
"It has been one year, and you would expect something to have been built," Sangyang, 33, a teacher who lost a brother in the quake, was quoted as saying by South China Morning Post. "But it still looks like one big construction site, with dust everywhere. Probably no outsider would believe we don't even have proper roads."
The only new structures are a handful of half-finished multi-storey complexes that are to be schools and hospitals, reconstruction priorities as promised by the government. Most residents are still housed in blue tents sprawled across settlement areas around Kyegudo. Schools, hospitals and government offices are currently in rows of prefabricated buildings, SCMP reported.
There has been slow progress despite government investment of 5 billion yuan (HK$5.95 billion) in 298 reconstruction projects last year and pledges to invest another 20 billion yuan this year, the report said.
A special prayer service was held this morning at Tsuglagkhang, the main temple in Dharamsala, to mourn those who lost their lives in the tragedy.