Canberra: The Australian Parliament unanimously passed a motion tabled by Senator Bob Brown, leader of the Australian Greens, "wishing both the Chinese government and the envoys of His Holiness the Dalai Lama for a successful result in the coming eighth round of discussions on Tibet."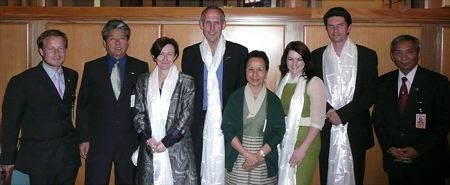 Australian Greens Senator Bob Brown (centre rear) during a meeting with DIIR Kalon Kesang Y Takla (centre front) in Canberra on 13 October. (Photo: ATC)
Noting that the eight round of the Sino-Tibetan dialogue is due to take place in October or November 2008, the Senate expressed its recognition of His Holiness Dalai Lama's 'Middle Way Approach' to autonomy for Tibet within China.
The Senate said it appreciates the offer by the People's Republic of China to host the dialogue and wishes both parties a successful breakthrough and outcome.
Earlier on 13 October, Senator Brown and four Green Senators met with Kalon Kesang Yankyi Takla, kalon for the Department of Information and International Relations, during her visit to Australia.
Kalon Takla also addressed the Foreign Affairs Sub-Committee of the Federal Parliament's Joint Standing Committee on Foreign Affairs, Defense and Trade on the current situation in Tibet.