ATC Report: Kalon Kesang Yangkyi Takla, Kalon (Minister) for the Department of Information and International Relations of the Central Tibetan Administration, concluded her six-day visit to Australia with two days of high-level political meetings in Canberra.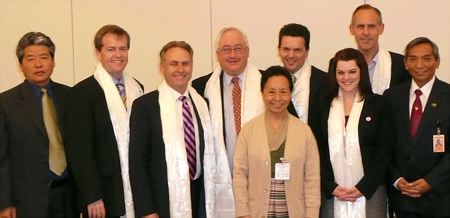 Australian Greens Senator Bob Brown (1st R in the back row) during a meeting with DIIR Kalon Kesang Y Takla (3rd R in the front row) in Canberra on 13 October. (Photo: ATC)
On Monday afternoon Mrs. Takla addressed the Foreign Affairs Sub-Committee of the Federal Parliament's Joint Standing Committee on Foreign Affairs, Defence and Trade. Mrs. Takla briefed the committee on the current situation in Tibet and requested the Australian Parliament send a fact-finding delegation to Tibetan areas. She detailed the deteriorating conditions since March including reinvigorated programs of patriotic education, new measures to restrict movement inside Tibet and persistent intimidation from Chinese security forces. Finally, Mrs. Takla briefed the committee on the impending eighth round of Tibet-China dialogue and took several questions from committee members.
In the evening Senator Bob Brown, leader of the Australian Greens, hosted a dinner for Kalon Takla. Four of the five Greens Senators attended the dinner, along with Tenzin Atisha (Australian Representative of His Holiness the Dalai Lama), Ngodup Gyaltsen of the Tibet Information Office in Canberra and Paul Bourke and Simon Bradshaw of the Australia Tibet Council. Senator Bob Brown in a long-time supporter of Tibet who has worked hard over many years to build parliamentary support for Tibet in Australia.
On Tuesday Mrs. Takla had a number of media engagements and met with the Shadow Foreign Minister and with senior staff from Amnesty International Australia. In the evening the Australian All-Party Parliamentary Group for Tibet hosted a reception for Mrs. Takla, with several MPs and Senators representing each major party in attendance. Mrs. Takla reiterated the need for Australian MPs to request permission from the Chinese Embassy to form a fact-finding delegation to Tibetan areas.
Mrs. Takla is now on a two-day visit to New Zealand before returning to Dharamsala.