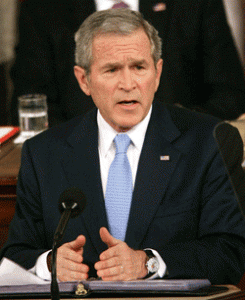 US President George W Bush - file photo (Reuters)
During a celebration to mark Asian Pacific American Heritage month at the White House, US President George W. Bush urged China to hold substantive dialogue with the representatives of His Holiness the Dalai Lama to address the deep and legitimate concerns of the Tibetan people, while conservative and liberal members of Congress put the spotlight on Beijing's gross human rights violations.
"I welcome the recent statements by the Chinese government expressing its willingness to meet with representatives of the Dalai Lama, precisely what I had suggested (Chinese) President Hu Jintao do," Bush said .
"It's important that there be a renewed dialogue — and that dialogue must be substantive so we can address, in a real way, the deep and legitimate concerns of the Tibetan people," the US president said.
His Holiness the Dalai Lama wrote to Chinese president Hu Jintao on 19 March offering to send emissaries to Tibet to try and calm tensions.
On 25 April, China's State media Xinhua quoted an unnamed official saying that the central government have decided to meet the envoys of His Holiness the Dalai Lama in the coming days.
In its response, the Kashag of the Central Tibetan Administration said restoring normality in the situation in the Tibetan areas is a prerequisite for the formal resumption of the talks, adding, we are committed to take all steps, including informal meetings, to continue to bring about this.
The Kashag underlined: "It is our position that for any meeting to be productive it is important for the Chinese leadership to understand the reality and acknowledge the positive role of His Holiness the Dalai Lama rather than indulging in vilification campaign that is even contained in the same Xinhua report."
His Holiness the Dalai Lama for a long time, especially since 10 March of this year, wanted to reach out to the Chinese people and the leadership. His Holiness the Dalai Lama has always wanted to resolve the issue of Tibet through face-to-face discussions with the Chinese authorities.
His Holiness and the Central Tibetan Administration has categorically rejected the Chinese authorities baseless allegations levelled against them and have repeatedly called for thorough investigation by an independent investigation body of the causes of unrest in Tibet.