Tokyo: His Holiness the Dalai Lama on his way to a three-week schedule in the US and Canada transited Japan and made a brief stop at Tokyo Narita on Monday. His Holiness' transit came at a time when the news of Liu Xiaobo, a prominent Chinese dissident being awarded Nobel Peace Prize has become a popular news piece here.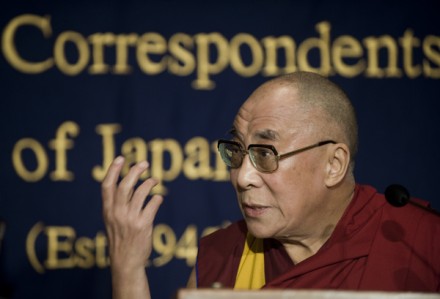 In this file photo His Holiness the Dalai Lama speaks to the media at the Foreign
Japanese NHK television and Kyodo Tsushin team conducted a brief interview of His Holiness the Dalai Lama on this matter.
"It is a timely and very appropriate that the 2010 Nobel Peace Prize is awarded to Mr Liu Xiaobo. Through this award his effort to bring freedom and democracy in China through non-violent means is recognized by the world. Chinese leaders now need to open up and come out from that narrow-minded attitude. The leadership should accept the reality, what the Chinese people are demanding is what is already being provided in the nation's constitution. Blocking BBC, CNN and news media will not help. It will only bring bad name to China," said His Holiness the Dalai Lama.
For a message to Mr Liu Xiaobo, His Holiness said, "the world has recognized your noble effort, despite the temporary setback, you should not lose your heart. Keep up your moral strength and determination. The world is behind you."
His Holiness consoled Mr Liu Xiaobo's wife Mrs Liu Xia not to get discouraged. When asked if this Nobel Peace Prize could bring change in China, His Holiness said, "change in China depends on many factors, yes, this Nobel Peace Prize is one of the many factors. China needs many Liu Xiaobo to bring change."
His Holiness appreciated the recent speech by Chinese Premier Wen Jiabao on democracy and indispensability of freedom of speech in China, "this is good, Chinese leadership should work toward the ideals of democracy and freedom. This is good for China and for all," he said.
His Holiness the Dalai Lama and the entourage left for San Francisco in the evening on the same day.
[Report filed by Tsewang Gyalpo Arya, Liaison Office of His Holiness the Dalai Lama in Tokyo]