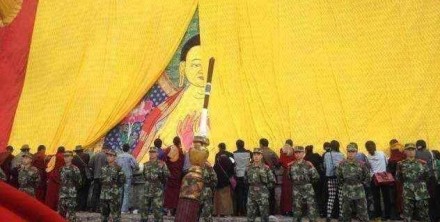 DHARAMSHALA: The Chinese government has sentenced five Tibetans, including a writer and teacher, to prison terms ranging from 2-5 years in eastern Tibet, and intensified restrictions at a major religious festival near the capital Lhasa.
A court in Nyagchu in eastern Tibet's Karze region on 1 August sentenced five Tibetans – Gangkye Drupakyab, Samdup, Yudrang, Drensel and Shelgyal –  to 2-5 years in prison on charges of running a rebel organisation.
Of those sentenced, Gangkye Drupakyab, a writer and teacher, who was kept in detention since last February, received a prison term of five and half years. He completed his education in teacher training in Karze and was teaching at a new school build by Khenpo Tsultrim at Drago at the time of his arrest. He also wrote a book on China's brutal crackdown on the Tibetan protests in 2008.
Samdup, 32, a native of Gonchok village in Serta, and Yudrang, were sentenced to 1 year and 5 months, and 2 years in prison respectively. Samdup was arrested in June last year for allegedly taking part in Tibet-related political activities.
Drensel and Shegyal were given prison terms of 3 and 2 years respectively.
Restrictions heightened in Lhasa
Reports coming out of Tibet say the Chinese government has stepped up restrictions in capital Lhasa, where tens of thousands of Tibetans and Chinese pilgrims have gathered for Shoton festival being held from 6 – 12 August.
Photos from Drepung monastery near Lhasa show a heavy deployment of police and army to control a huge gathering of pilgrims.