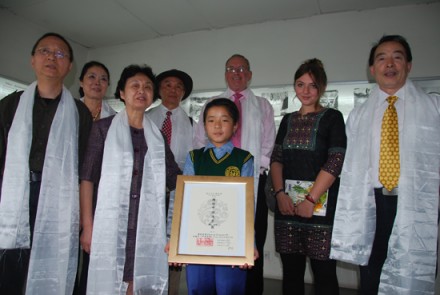 DHARAMSHALA: Imprisoned Tibetan filmmaker Dhondup Wangchen was awarded a special prize yesterday by Qi Shi Cultural Foundation, a Chinese social activist group based in Australia for his 2008 documentary film 'Leaving Fear Behind'.
The award was received by Dhondup Wangchen's daughter Lhamo Dolma at a special ceremony held at the Tibet Museum, Mc leod Ganj following the 52nd Tibetan Democracy day function.
Speaking at the ceremony, Kalon Dicki Chhoyang of the Department of Information and International relations thanked the foundation for awarding the prize to a Tibetan and acknowledged the foundation's contribution towards human rights and justice.
Mrs Qijia Zhen, president of the foundation spoke briefly about the foundation and stated the reasons behind the foundation's decision to award this special prize to Dhondup Wangyal, who is currently in Chinese prison.
Dhondup Wangchen was arrested in March 2008 on charges related to his documentary. At that time, various human rights groups have protested his detention, calling Dhondup Wangchen, a prisoner of conscience.