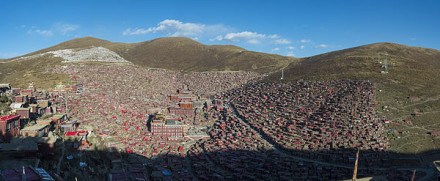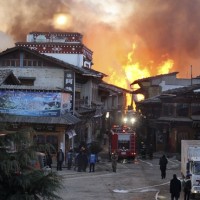 DHARAMSHALA: Reports coming out of Tibet say a major fire broke out in Serthar in Karze region in eastern Tibet (incorporated into China's Yunnan Province) on Friday evening, making extensive damage to Larung Gar Buddhist Institute, which became one of most influential Tibetan Buddhist learning centres in Tibet following liberalisation of religious practice in 1980s after the Tibetan culture and religion suffered systematic annihilation during China's Cultural Revolution.
Over 100 residential houses at the Larung Gar Institute were destroyed in the fire. No loss of lives were reported. Two nuns were injured in incident and hundreds of residential houses were razed to the ground, media reports say.
The Central Tibetan Administration based in Dharamsala today expressed deep concern over tragic incident in Serthar. "On behalf of the Central Tibetan Administration and the Tibetan people, I expressed deep concern over the destruction caused by the fire in Serthar region, especially damages caused to the prominent Larung Gar Buddhist Institute. We hope and call for the quick restoration of this important learning centre so that it could continue to contribute to the preservation and promotion of study of Tibetan Buddhism and culture," said Dr. Lobsang Sangay, democratically-elected Tibetan leader and political successor to His Holiness the Dalai Lama.
The Larung Gar Buddhist Institute was established in 1980 by late Khenpo Jigme Phuntsok, a prominent Buddhist scholar, who played an important in revitalising the teaching of Tibetan Buddhism following China's liberalisation of religious practice in 1980 after Tibetan culture and religion suffered systematic destruction during the Cultural Revolution. The institute provides an ecumenical training in Tibetan Buddhism and played an important role in the renewal of meditation and scholarship all over Tibet.
The institute attracted tens of thousands of disciples from different parts of the world, including about 1000 ethnic Chinese as well as students from Taiwan, Hong Kong, Singapore, and Malaysia.
In 1987, Khenpo Jigme Phuntsok led hundreds of his disciples from Serthar Institute on a pilgrimage to the sacred mountains of Mount Wutai in China in Province and gave teachings to a congregation of over 10,000 people, including Tibetans, Chinese, Mongols and other Buddhist practitioners.  He also made extensive travels to teach at Buddhist learning centres in United States, Canada, Germany, England, France, Japan, Taiwan, Hong Kong, India, Nepal, and Bhutan in 1990s.
Following his meeting with Tibetan spiritual leader, His Holiness the Dalai Lama, during his visit to India in 1990s, the Chinese government imposed travel restrictions on him. It demanded he reduce the number of students at the Larung Gar Institute (either to 150 or to 1400, depending on reports), but he refused. In 2001 several thousand Chinese security forces arrived at the institute, razing its structures and dispersed its students.
In the 1990s, Khenpo Jigme Phuntsok also began an appeal to traditional Tibetan yak herders to refrain from commercial sale of their livestock for spiritual and cultural reasons that has grown into the Anti-Slaughter Movement.
He died in 2004 in Tibet at the age of 70.