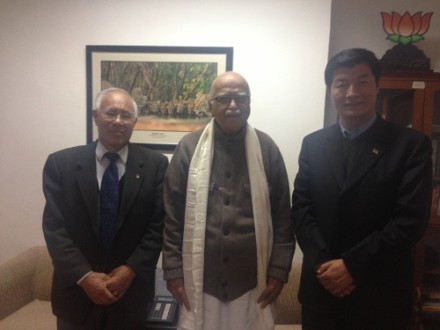 DHARAMSHALA: Honorable Sikyong Dr. Lobsang Sangay concluded official visit to Delhi after meeting media personnel and leaders of political parties.
Sikyong met with senior leaders of Bharatiya Janata Party (BJP) including L. K. Advani-ji and Murli Manohar Joshi-ji etc. He briefed them about the current situation inside Tibet and urged them for their continued support for the just cause of Tibetan people.
Sikyong Dr. Lobsang Sangay also met Mr. Keshav Desiraju, Secretary of Health Department, Government of India to resolve the problem faced by Tibetan nurses in view of a circular issued last year by the Indian Nursing Council (INC). The Health Secretary said that he fully understands the matter and will look into it to resolve the problem.
Sikyong Dr. Lobsang Sangay arrived at Dharamsala today and received His Holiness the Dalai Lama at the Gaggal Airport.