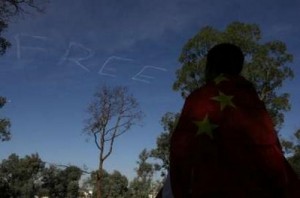 A supporter of the 2008 Beijing Games looks at the sky while a plane writes -Free Tibet- during the Olympic torch relay in Canberra April 24, 2008. REUTERS/Daniel Munoz (AUSTRALIA)
A skywriter commissioned by Australian Greens leader Bob Brown has written the words Free Tibet in the sky above Canberra.
Senator Brown joined pro-Tibetan protesters at the front Parliament House and said the spirit of Australians would be with the Tibetan people today.
"The spiritual strength of the Tibetan people is a beacon to the whole world and up there in the sky is something that the bosses in Beijing cannot erase," Senator Brown said.