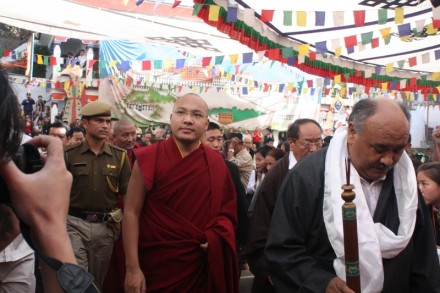 His Eminence the XVII Gyalwa Karmapa Rinpoche (center) welcomed by Mr. Sonam Choephel Shosur on the XV Shoton Festival in Dharamsala, Saturday, 27th March 2010. Photos/ Sangay Kep/TibetNet
Dharamshala: His Eminence the XVII Gyalwa Karmapa Rinpoche inaugurated the XV Tibetan opera festival, popularly known as Shoton, at Tibetan Institute of Performing Arts (TIPA) in Dharamshala on Saturday, March 27. The festival will last until April 6.
Addressing the eager crowd who had come to attend the opening day of the festival, His Eminence Gyalwa Karmapa Rinpoche, the Chief Guest, commended the members of the various troupe for their hard work and for their contribution in preserving a rich traditional Tibetan culture.
Mr. Sonam Choephel Shosur, Director of TIPA, in his introductory speech, traced the origin of the festival to the founding of Drepung Monastery by Jamyang Choeje, the disciple of Je Tsongapa. Observed in conjunction with summer retreat of the monastery during which curd is offered to the monks as it was aplenty during the season and because the white colour is deemed auspicious by Tibetans. It was known then as Drepung Shoton. Later during the Great Fifth Dalai Lama this festival grew into to a full fledged festival of performance of Tibetan opera which continues to be celebrated as Shoton.
Nine opera groups have come from different parts of Tibetan settlements in India and Nepal. On the inaugural function each performed for 30 minutes. Except for the opening and last three days of the festival, the rest of the performances will be held outside TIPA, in Tibetan settlements in and around Dharamsala.
The Tibetan Homes Foundation will perform Nangsa Woebum, Sug ki Nyima by opera group from Kalimpong; Milarepa by Nepal troupe, Dowa Sangmo by Mainpat and Bhandara performers, Choegyal Norsang by Mundgod troupe, Chungpo Dhonyoe Dhondup by Bylakuppe group, Pema Woebar by Orissa group and TIPA will perform Choegyal Drimey Kunden.
On Sunday, 28 March, His Holiness the Dalai Lama granted a special audience to the artistes participating in the opera festival.
(Reporter : Tsering Dolma)
More Photos: