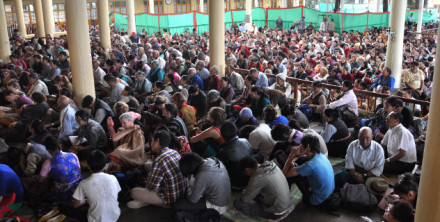 DHARAMSHALA: His Holiness the Dalai Lama has begun a 4-day teaching on Shantideva's A Bodhisattva Way of Life (TIB: Choedjug) at the main Tibetan temple, Mcleod Ganj near Dharamshala today.
The teaching is being held at the request of Nalanda Shikhsha comprised a group of 16 Sangha organisations across India.
In his introductory address, His Holiness the Dalai Lama said, "even though the teacher today is a Tibetan, the place and the source of this rich religion is India. And I feel glad to be able to repay these ancient traditions back to the well-educated new generations of India."
His Holiness also noted that every living being on this earth desires happiness and an escape from suffering. "But we, as human beings, have this special intellect to discern right from wrong. The seven billion human beings on this earth all share a common desire for happiness and an end to suffering," he said.
The teaching began with a recitation of Heart Sutra (TIB: Sherab Nyingpo) in Sanskrit led by a female Indian devotee.
Over seven thousand people including local Tibetans, 1,900 foreigners and about 14 Chinese from Mainland China are attending the teaching. The teaching will be held till 4 June 2013.