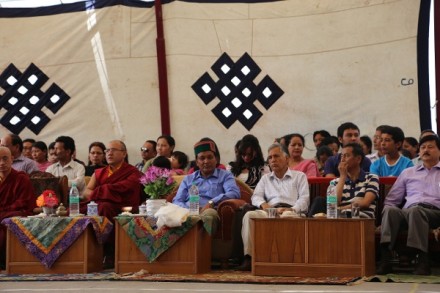 SHIMLA: "Dalai Lama: A Talkathon scroll" a book written by Prof. Som Ranchan was launched by  Shri Jagat Singh Negi, deputy speaker of Himachal Vidhan Sabha at a function held to mark Buddha Purnima on 25 May at Shimla. Gyabra Tri Sab rinpoche was the guest of Honour during the function.
The book is a collection of proses and poems derived from His Holiness the Dalai Lama's life narratives, ideas from Buddhist philosophy and his leadership in the Tibetan cause. The author Som Ranchan is a retired professor from Himachal Pradesh University who has more than 70 books to his name.
The chief guest, Shri Jagat Singh Negi in his speech said that the Buddhist teaching of truth and non-violence is very important in one's life. He thanked the Indo-Tibetan Friendship society for organising the function and urged them to continue their good work.
The day began by unfolding of big thousand-buddha Thanka painting amidst prayers in the morning. After that Tsering Tashi, Tibetan Settlement Officer Shimla cum Vice President of ITFS, Shimla gave welcome speech followed by introduction on twelve deeds of Buddha by Khen Rinpoche Sonam Tashi of Dorjee Dak Monastery. Prof. V.S. Negi, President ITFS Shimla, talked about the importance of the day and its celebration.
Other dignitaries present at the function were Gyan Sagar Negi SDM (R) Shimla,Prof. Ramesh Chand Negi from Central University of Tibetan Studies Sarnath, Shri P.S. Negi. an IAS officer and former Vice Chancellor of HP University,Prof. Pankaj Vasudev, Rajiv Gandhi Govt. College Shimla and Prof. Ranchan.
Cultural performances from CST Shimla, Cham dances from Dorjee Dak monastery and Jonang monastery, Lahaul Spiti dance from Lahaul-Spiti students of HP university were presented during the function.
Over two thousand people attended the function.The function was organised by the Indo-Tibetan Friendship Society (ITFS) Shimla.