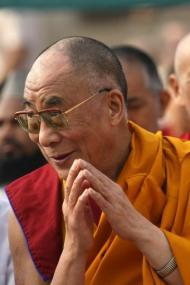 His Holiness the 14th Dalai Lama
One of the highlights of His Holiness's five-day visit to Australia was the Sunday meeting of some 300 Chinese people which included former officials from the Chinese embassy in Australia.
The meeting was coordinated by the Office of Tibet, at the request of China Freedom and Democratic Party based in Australia.
Expressing happiness over the meeting with Chinese people, His Holiness said on various occasions, the Chinese people, especially those from Mainland have implored him to come to China to give teachings on Buddhism.
His Holiness underlined that Chinese people living outside China must have a clear understanding about the situation of Tibet, emphasising that the issue of Tibet has to be ultimately resolved only between the Tibetans and Chinese without depending on a third party.
In this regard, I have been making efforts to reach out to the Chinese friends and happy indeed to be able to meet and talk to them, His Holiness added.
During an open and interactive discussions, His Holiness reiterated that he is not against the Chinese people, and that he "totally support Beijing Olympic Games and the torch relay".
On the same day, His Holiness wrapped up a five-day teaching on the Kamalashila's stages of meditation with a message of human compassion. His Holiness told a packed house at The Dome at Sydney Olympic Park that human compassion begins with honesty, forgiveness and tolerance. Compassion is a case of common sense, His Holiness said, not religion.
His Holiness also conferred the initiation of Chenrezig, the Buddha of compassion.
The members of the organising committee also offered long life prayers to His Holiness the Dalai Lama and requested him to visit Australia again next year.
Later in the afternoon, His Holiness left Australia for Jordan, where he will attend a conference of Nobel Peace Laureates.
phayul.com | Link