Dharamshala:His Holiness the Dalai Lama addressed the press – consisting mainly of the Tibetan press, briefly at the Tsuglag Khang for about 20 minutes today noon. His Holiness elaborated on the matters mentioned in the press release issued earlier by His Holiness the Dalai Lama.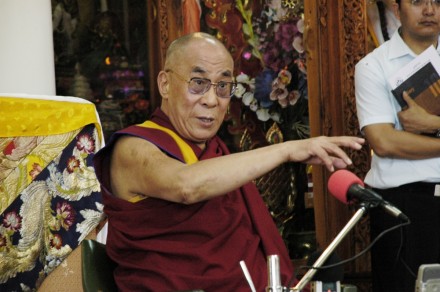 His Holiness meets the press on Kyigudo Earthquake at Tsuglag Khang, Mcleod Ganj, Dharamsala, Saturday, 17 April 2010.
Adding on the press release, while appreciating the relief efforts by both government and non-government organisations, His Holiness appealed to all concerned to check on the spot that the relief reached the needy on the ground. He also appealed that the first priority of the relief and support should be in the fields of education and health.
On a related matter, the Reuters correspondent asked His Holiness if He had commenced the visa process at the Chinese Embassy to follow up with His wish to visit the quake-hit area in Tibet. His Holiness said, " … it is too early to say."